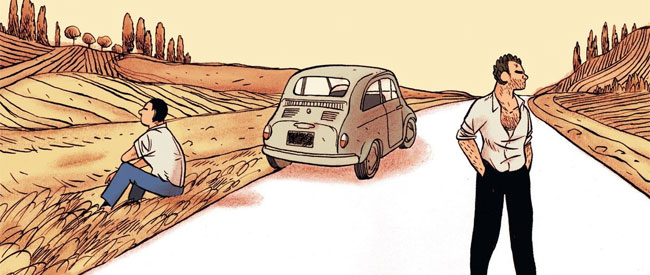 A poignant period tale of family strife, Alfred's Come Prima – winner of the Fauve d'Or for Best Album at Angoulême in 2014 – marks a strong start to Delcourt's English-language list on ComiXology.
One announcement from San Diego that definitely got our whiskers twitching earlier in the month was the news that Delcourt – France's leading independent publisher of bandes dessinées – was launching a line of English translations via ComiXology.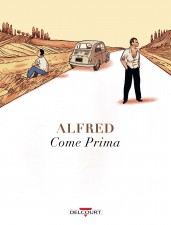 And when the initial line-up included Come Prima by Alfred, which won the Fauve d'Or for Best Album at Angoulême in 2014, it's safe to say that our attention was well and truly grasped.
As you'd expect from that honour, Come Prima (and we'll come back to that title a little later) is one of those graphic novels that lives up to the term – a rich and poignant look at the relationship between two Italian brothers in the 1950s, as they try to deal with their (and their country's) troubled recent past.
Following the death of their father, Giovanni goes to France to track down his wayward and estranged older brother Fabio, a ducker-and-diver living the dislocated life of an exile in the south of France as a (mostly unsuccessful) prize-fighter.
Initially reluctant to join his brother in returning his father's ashes to their home town, Fabio's mind is made up for him when he has to flee his latest creditor.
What follows, as the brothers head south in a failing Fiat, follows the classic road movie structure: Gio and Fabio are not only on a physical journey from A to B, but also on a psychological journey as they try to come to terms with the events of the past.
The book is shot through with travel imagery, from a hitchhiker who never seems to get anywhere to Fabio's recollection of his youthful wanderlust. Then, as they near journey's end, fate intervenes (in the form of a stray dog they've adopted along the way), prompting a final, climactic revelation and a decisive reckoning with the past.
What Come Prima lacks in earth-shattering action, it more than makes up for in astute characterisation. Fabio is a study in that "bleak male rage" we hear so much about these days. Alienated and angry, he remains haunted by his earlier decisions while trying to claim they were bold and courageous choices.

Meanwhile, as a grown man Gio is trying to exorcise his little brother/big brother relationship with Fabio, which has cast ripples far and wide from the centre.
The book's primary theme is embodied in the title, which the book shares with an Italian song that was an unlikely international hit in 1958 – the year the story takes place. Roughly translated, come prima means 'as before' in English, highlighting the story's central theme of recollection and reconciliation with the past.
And that past is developed through one of the book's most distinctive and stunning features – a series of lovely flashback images that recur throughout the book, gradually gaining significance as the pieces of the backstory fall into place. Produced in just three colours in a primitive wood-cutty style, they reflect the distant view of events our memory offers us.
In fact, the colouring throughout this book – credited to Alfred and Maxime Derouen – is dazzling. In sequence after sequence it captures beautifully the atmosphere and time of day, from rich blue nocturnal scenes to pre-dawn glimmers, and from the bleached-out glare of the Mediterranean sun to the rich orange of a sunset.
And Alfred's mastery of pacing allows the reader time to appreciate that colouring. The regular use of widescreen panels and silent sequences creates a languid rhythm, like a cinematic montage that evokes the slightly timeless, contemplative feeling of being on a long journey. Dropping in occasional large panels to create a sense of scale in the landscape, Alfred is reminiscent of Carol Swain at times in his feel for the environment around his characters.
I'm ashamed to say I'd never encountered Alfred's work prior to reading Come Prima, but it soon becomes clear that he's a master of the comics form, using its graphic possibilities to create sequences and moments of real emotional impact.
The initial phase of Delcourt's 'French invasion' of ComiXology will apparently bring us more than 150 of the publisher's titles, across a range of genres. If even a few of them live up to the quality of Come Prima, we anglophones are in for a frontier-breaking treat.
Alfred (W/A), Maxime Derouen (Co-colourist) • Delcourt, $12.99 (exclusive to ComiXology)