Nikola Jajic drops us down the rabbit hole into a bizarre realm of dark whimsy in his latest offering from Alterna.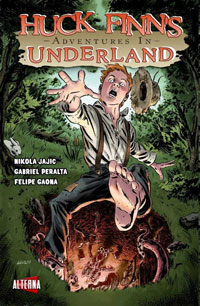 As the title suggests, Nikola Jajic's latest limited series fuses a number of different literary pedigrees into one rollicking tale of light-hearted adventure and dark, primordial horror. Following in the footsteps of such hits as The League of Extraordinary Gentlemen, Fables, The Unwritten, and Kill Shakespeare, Huck Finn's latest adventure could be said to come from a pretty staunch pedigree of its own.
Although it might be a bit much for an all-ages audience, thanks to some inoffensive cussing, Jajic approaches his subject matter with a refreshing childlike glee just skirting reckless abandon. Through each of the three issues reviewed, the plot bounces along at a nice clip, as Jajic tosses together an eclectic cast that includes the titular protagonist, a hulking, well-mannered yet unexpectedly feral White Rabbit, and an unabashedly confused H.P. Lovecraft, amongst other familiar faces. Never taking itself too seriously, this is a book that balances good old fashioned adventure with elements of Carroll's whimsical Alice books and the ever-looming cosmic horror of the Cthulhu Mythos to great effect. As Huck's quest to return home takes him ever deeper into Underland, it will be interesting to witness how his role as hero leaves his fictional grass roots behind.
At first glance, Gabriel Peralta's artwork may seem like an odd match for source material so far removed from his humorous work on Jajic's satirical Tooth & Nail webstrip. At times, the art did feel a little rushed but as the series progressed I became more comfortable with Peralta's loose style. His rendition of the Jabberwocky is just over-the-top enough and the comedic timing he's developed on T&N serves him well bringing to life Jajic's fun, fast-paced script.
While Huck Finn does play into the ever-popular metafictional trend in modern comics, it does so with tongue firmly planted in cheek. That isn't to say this isn't a serious book. There's nothing trivial about Jajic and Peralta's romp through our favorite classics – quite the opposite, in fact. Huck Finn is a book that is just self-aware enough to never lose sight of its glorious roots.
Fun and inventive, a literary mash-up for the ages, Huck Finn reminds us of the infectious sense of wonder and whimsy we felt upon first delving into the fictional worlds of Carroll, Lovecraft, and Twain.
A digital copy of Huck Finn's Adventures in Underland #1 is available for purchase at Comixology.
Nikola Jajic (W), Gabriel Peralta (A), Felipe Gaona (C) • Alterna Comics, $3.99, April 29, 2013.