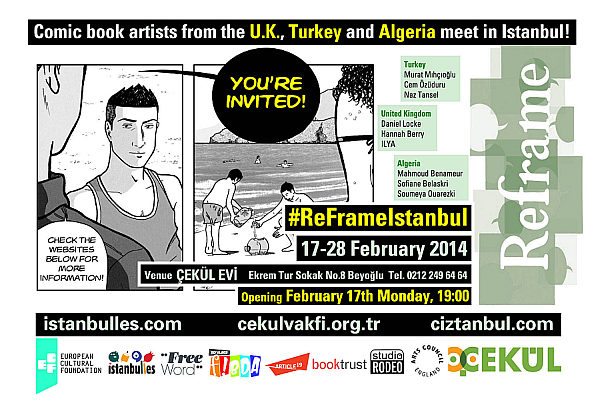 Last November's Comica Festival afforded me the opportunity to meet Turkish comics practitioners Murat Mıhçıoğlu and Cem Özüduru (below right) whose work was on display with creators from Turkey, the U.K. and Algeria as part of the Reframe exhibition at London's Free Word Centre.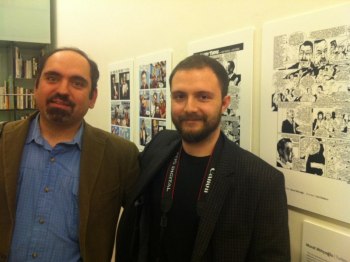 The exhibition's remit was to explore contemporary attitudes to Europe as the creators sought to "use their distinctive styles and viewpoints to 'reframe' perspectives through a series of new graphic short stories that examine the cultural, social and political dynamics between Europe and each of the participating countries." Alongside fellow Turkish artist Naz Tansel, comics by Murat and Cem were featured with those of Sofiane Belaskri, Mahmoud Benameur and Soumeya Ouarezki from Algeria, and Hannah Berry, Ilya and Daniel Locke from the UK.
Murat was kind enough to share the Turkish pieces with Broken Frontier's audience here last year before the London leg of Reframe came to its conclusion. That wasn't the end of the story however. Between the 4th and 9th of February the exhibition went to Algiers as part of FIBDA, the Festival International de la Bande Dessinée d'Alger, and this week it reaches Istanbul where it opened today at Cekul Evi and runs until 28th February.
The festival flyers are reproduced here and you can follow Reframe's progress on Twitter via the hashtag #ReFrameIstanbul. And don't forget those Turkish comic strips can be read here on Broken Frontier.