Community-based projects will always be at the heart of what we do at Broken Frontier and Inspiration, the first of three digital anthologies from the Comics School project certainly fits into that category. The book is "designed as a platform to showcase hitherto unpublished creators" with proceeds going to Direct Relief, an international charity that provides doctors and nurses with life-saving equipment and medical resources (currently focused on the pandemic). It span out of acclaimed US comics writer Gail Simone's #ComicsSchool initiative on Twitter where Simone shared her years of experience with fledgling creators looking to bring their stories to the comics page.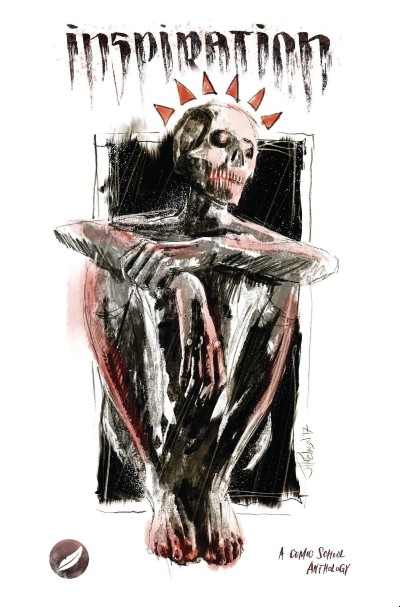 Cover by John J. Pearson
In that regard there are similarities with our own Broken Frontier Small Press Yearbook. But, where the BF Yearbook focused on artists controlling every aspect of their story, Inspiration is about the intricacies of collaboration, with bringing writers, artists, colourists and letterers together to play to each other strengths. Unlike many similar small press anthology projects there is no unifying theme beyond the creators' relative inexperience. The work here is representative, then, of a wide range of genres including horror, fantasy, comedy slice-of-life and action, across twelve short story offerings.
From that intro it will come as no surprise that much of the practice herein displays the occasional naiveties of creators learning their craft on the job and honing their storytelling skills for the first time together. That, of course, is rather the point of a book that seeks to provide a platform for emerging voices. But it does mean that if you're looking for wildly experimental uses of the form then this isn't the venue for that, rather this is an exercise in creatives concentrating on the basic skills of constructing a narrative as part of a team or a partnership.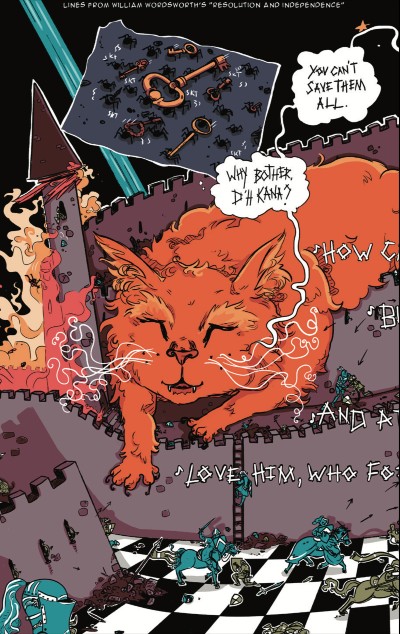 One of the standout stories here is Madeleine McQuilling and Eileen Lemoine's 'Pause' (above) with its alternative slant on the fantasy genre. It's full of playful warmth with Lemoine's panel to panel storytelling toying with our between-the-panels comprehension of place and time and incorporating some delightful visual characterisation. Gabbie Scanlon's art on Noah Needle's story 'Together' (below), casting feelings of anxiety in human form as a constant presence in a young man's life, employs clever use of overlapping and irregular panel placement to underline his ordeal. Kevin D. Lintz's lettering also plays a vital role here in displaying the adversarial nature of their relationship.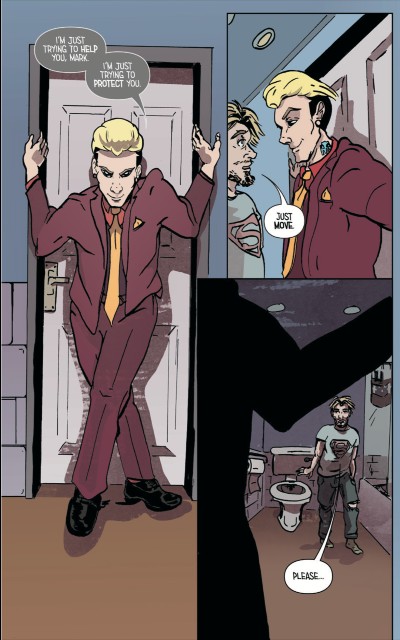 Lintz also letters 'The Punchline' written by Kevin Sharp and illustrated by Danos Philopoulos featuring a comedy gig taking place at the end of the world. The denouement to this story almost embraces the nihilistic and with a knowing wink wrongfoots the reader's expectations. Pholopoulos's art is atmospheric and appropriately foreboding throughout. 'The Blacksmith's Son' is a coming-of-age tale that, while touching, perhaps feels more like a prelude to a story to come from writer Eddie Garza. But it does contain some of the most confident art in the book from Rick Alves, and meticulous colouring by Reed Hinckley-Barnes that captures changing timeframes and locations beautifully. And the allegorical motifs of 'Earthling' (below) by Erica Brooks, Camilo Aguirre and Lyndon Radchenka exploring neurodiversity in a school setting, but with a sci-fi twist, is undoubtedly the feelgood entry in the book.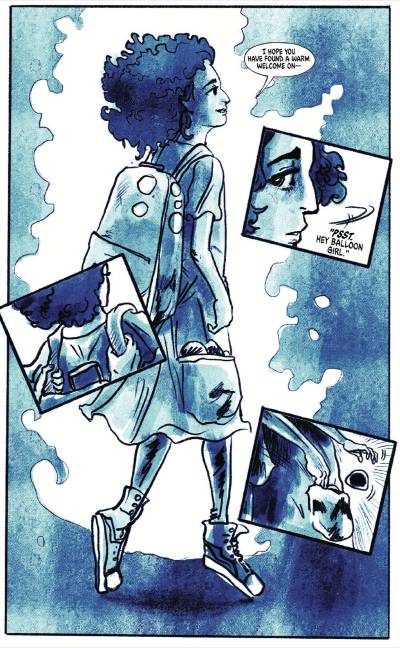 Of course the fun of an offering like this is always in discovering your own new potential favourites, from the dynamism and charm of Chris Doray's art on the urban fantasy 'The Order of Nimbus' to Kelly Latham's character-led cartooning on 'Of Girlfriends and Grimoires'. Some of the creators featured herein are already assured storytellers, some are more obviously at the beginnings of their creative journeys, but projects like this that exist to champion and promote new talent are to be lauded. They're an essential stepping stone for those seeking to reach wider readerships and gain feedback on their efforts, and they deserve our support. This is the first in three projected anthologies. I look forward to seeing who makes the line-up of new names in volume 2.
Owen Russell (Project Manager), Madeleine McQuilling (Production Editor), Joni Hägg (Content Editor), Nathan Kempf (Artistic Director). Contributors – Eveline Albers, Camilo Aguirre, Rick Alves, PM Baltazar, Ken Best, Erica Brooks, Karine Charlesbois, Chris Doray, James Duran, TC Feng, Eddie Garza, Reed Hickney-Barns, Chris Hutton, Kyle Irvine, Chris Larsen, Kelly Latham, Eileen Lemoine, Kevin D. Lintz, Noah Needle, Eros de Nardi, Danos Philopoulos, Klara Pokrzywa, Lyndon Radchenka, Mark Gerald Rapaja, Gabbie Scanlon, Kevin Sharp, Bobby Singer, Andrew Stalley, goatbunny.
Review by Andy Oliver
Follow Andy Oliver on Twitter here.