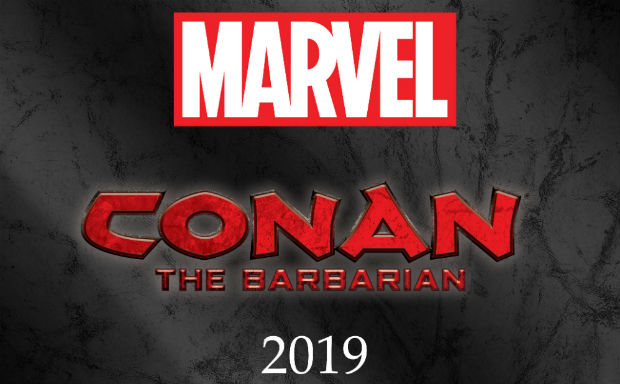 The news was announced today that pulp-fiction (anti)-hero Conan the Barbarian – the iconic fantasy creation of writer Robert E. Howard – will be returning to his original home at Marvel Comics at the beginning of 2019 after an interval of nearly twenty years.
Conan's adventures were guided for many years at Marvel by writer Roy Thomas and gave artist Barry Windsor-Smith his breakout moment in comics, elevating him to "fan-favourite" status in a time when that phrase had a pronounced gravitas to it. John Buscema also provided some very memorable art on the book for a large part of its run, arguably giving the character his signature look at the company.
The original Conan the Barbarian series lasted 275 issues from 1970 until 1993 and spun off a number of related books including Red Sonja, Savage Sword of Conan (in Marvel's black and white magazines line), King Kull and Conan the King (set in a later period of the character's life). Marvel continued to publish his adventures until around 2000 in numerous miniseries.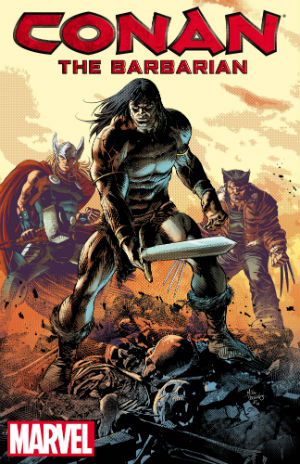 He was officially, if tangentially, a part of the established Marvel Universe (as confirmed in a cameo in Marvel's history project The Marvel Saga #1 in 1985) and characters from his era would make a number of offbeat appearances in Marvel books over the years. As a bit of fun on a Friday afternoon we've included some of them below the official press release.
Whether Marvel's new Conan launch follows their previous continuity (some of the promo art implies that's a distinct possibility) or the character is effectively rebooted remains to be seen. (And Red Sonja will, presumably, remain at Dynamite who currently licence the character). But for the nostalgists this is, no doubt, most welcome news indeed…
CONAN RETURNS TO MARVEL STARTING JANUARY 2019!
New York, NY – January 12, 2018 – Marvel Entertainment and Conan Properties International are excited to announce the iconic CONAN franchise will return to Marvel next year.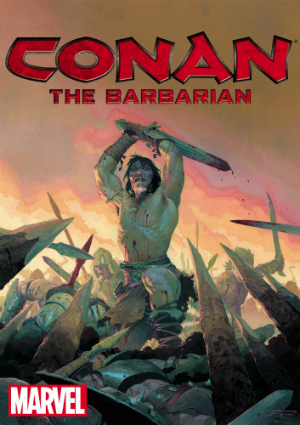 With over 650 issues from 1970 to 2000, Marvel brought fans the adventures of Conan The Barbarian, Conan the Adventurer, Conan the Savage and Savage Sword of Conan among other popular titles.
"From Barry Windsor-Smith to John Buscema to Neal Adams, a legendary line-up of amazing artists brought Conan to life in the pages of Marvel comics," said C.B. Cebulski, editor-in-chief of Marvel. "It's a legacy we're now going to live up to with the talent we have lined up for the Cimmerian barbarian's homecoming in early 2019. We're excited!"
"We're thrilled to be working with Marvel and look forward to the new adventures in store for Conan," said Fredrik Malmberg, President of Conan Properties International. "As the most well-known and creative publisher in the industry, we think Marvel is a great fit for our stories."
With this deal, Marvel will again bring new and thrilling stories for Conan fans around the world. Details on upcoming comic book titles, collections, reprints, and creative teams will be shared at a later date.
How Conan was introduced to US Marvel readers in 1970 and UK ones in 1975. Art by Barry Windsor-Smith
An early crossover with Michael Moorcock's Elric (art by Barry Windsor-Smith) and Frank Thorne art on one of Red Sonja's solo features
The black and white adventures of Conan in Savage Sword (art by Bob Larkin) and more REH from Marvel in Kull the Conqueror (art by Marie Severin, Ross Andru and Sal Buscema)
Both Red Sonja and King Kull would make incursions into the Marvel Universe-proper… (art by John Byrne and Terry Austin left, and Marie Severin and Terry Austin right)
Conan made a number of appearances in various issues of What If…? over its two main series. Art by John Buscema and Ernie Chan (left) and Gary Kwapisz (right)
A clash of the titans in another What If…? appearance from 1983 (art by Ron Wilson and Mike Mignola). And Barry Windsor-Smith's Rune meets Conan when the Ultraverse was assimilated into the Marve Universe.
Cover images via the ever excellent resource that is the Grand Comics Database.