A true artist doesn't just draw pretty pictures; he excels at telling stories. On just six issues of Moon Knight, Declan Shalvey showed the world why he's comics' newest superstar.
Here's a handy bit of career advice for artists looking to make it big in comics: if you've got the talent and the stomach, do whatever you can to team up with Warren Ellis. Buy him gallons of Red Bull or a jetpack for his birthday, because working with The Bearded One for any length of time will do wonders for your career.
Much like Brian Hitch on The Authority and John Cassaday on Planetary before him, Declan Shalvey experienced first-hand the immense dividends a collaboration with Ellis can pay. (So did Tula Lotay, but you'll have to read our Breakout Talent spotlight for more on her fine talents).
Working with Ellis can be challenging, because the man often has wicked ideas. As an artist you've got to be able to respond to the challenges he throws at you. And boy, did Shalvey respond.
Their six issues on Moon Knight for Marvel Comics stand as one of the finest runs of the past year with writer and artist performing in tandem on a unique level. The fact that they were all done-in-one adventures was icing on the cake, proving that catching lighting in a bottle in a mere 22 pages is still very much possible in this age of decompressed storytelling.
"The main lesson I learned is to do whatever Warren Ellis wants!" Shalvey jokes. "Seriously though, the process of working with Warren, and him giving me the space to experiment has been revelatory for me. It's changed me as an artist."
Those experiments ranged from good old comic book New York City street action (#1) to impeccable silent fighting sequences where the art carried the heaviest brunt (#2) to a story structured like an 80s video game completely with levels and boss takedowns (#5). And in between, there were the vintage otherworldly Ellis concepts that were both cool (the ghost murder gang in #3) and twisted (the dream sequence in #4 where Shalvey one-upped Brendan McCarthy).
The worst issue of the entire run probably was number 6, because you knew that by the time you'd reach the final page, this short but stellar run was over.
Looking back, Shalvey is amazed at how all of the artistic chances he took on Moon Knight paid off. "Suddenly, I got the reaction to everything I was trying," he says. "Experimenting with how I paced my storytelling, using grey wash in my pages, having more involvement in the coloring process, etc. These were all things I wanted to do but hadn't had the time or opportunity to experiment with.
"Slowing down a little and taking the time to embellish the work with grey wash has added a more illustrative element, which has really added more depth to the work."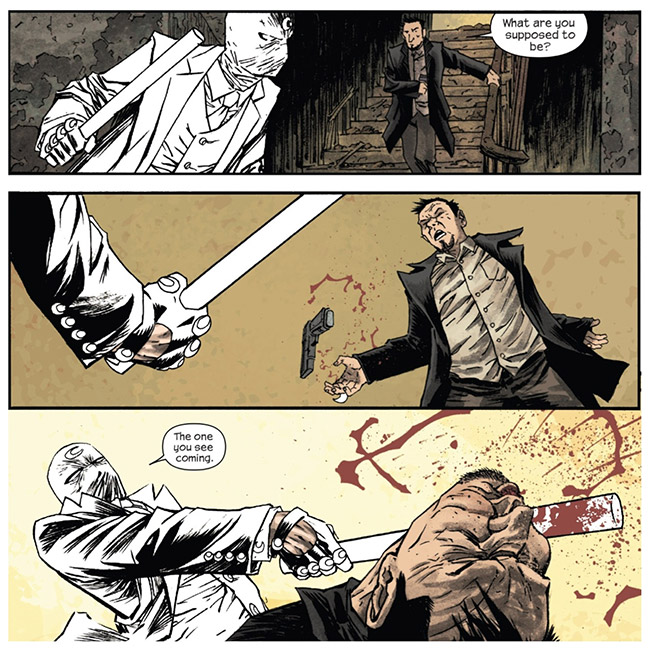 Shalvey's added confidence in his craft didn't go unnoticed by the hordes of peers, who came knocking on his door for looking for an eye-catching cover for their own series. It's also led him to pick up the gauntlet of doing creator-owned work for the next couple of years because he so much enjoyed the artistic freedom he experienced on Moon Knight.
The first project spawned on Shalvey's new path is Injection, the Image Comics series launching in May on which he's once again working with fellow Moon Knight creators Warren Ellis and Jordie Bellaire, colorist extraordinaire and his better half.
To Shalvey, his work on Moon Knight wouldn't have been quite as good if it wasn't for the involvement of the woman he loves. "Despite the fact that people really started paying attention to my work once Jordie started coloring it, she's been my sounding board for years," he says. "She's my biggest champion and my harshest critic, not to mention the one person who is responsible for how my work is seen on the page.
"Having an Eisner Award-winning colorist as a collaborator is a huge advantage for me, but as a result, I have to be doing my very best work. She works with many amazing artists so I have to bring my A-game. I completely trust her judgment. Sometimes we disagree, then come to a compromise, but 90% of the time, I go with her ideas. I'd be a fool not to."