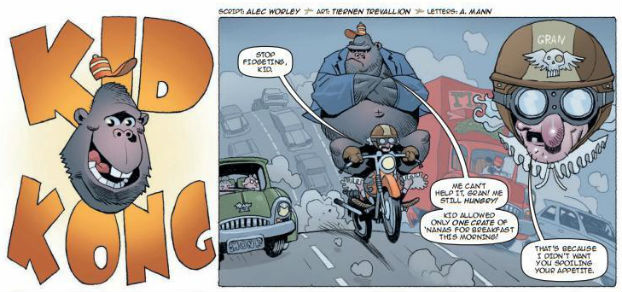 Back in February Rebellion announced an exciting line-up of specials to run through 2019 featuring many of the IPC properties of yesteryear that the publisher has picked up over the last few years. It means that classic strips from British weekly comics of the past will feature in all-new stories for the first time in decades. Of course, through their range of Treasury of British Comics reprints, rebooting of Roy of the Rovers and recent one-shots like the Scream! and Misty Specials and The Vigilant, they've already been taking these characters to new audiences in well-received packages. But 2019 feels like a crucial year given that regular programme of releases over the next few months. So how does this week's first entry – the Cor!! & Buster Humour Special (cover art by Neil Googe and colours by Jim Boswell, below right) – measure up?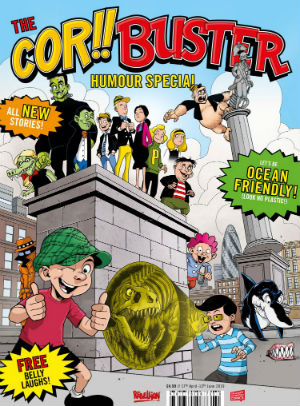 Firstly, it's essential that anyone of a certain age analysing these re-imaginings judges them on their own merits rather than looking for a re-creation of their own childhoods. Any element of discontent from middle-aged nostalgists is largely irrelevant because they are not the core audience this revival should be targetting. It's aiming itself at a younger, contemporary audience (after all it's not 1974 anymore) and styles and approaches here should absolutely be allowed to reflect that.
That's not to say that there are no concessions to the long-term fans; in fact the Cor!! & Buster Humour Special is absolutely crammed full of Easter eggs and indulgently loving celebrations of the comics of yesteryear, and many of the characters retain their classic looks. But if we're to see regular revisitations to these properties then that Phoenix demographic really needs to be the one Rebellion looks first and foremost to secure as readers.
Let's start first, though, with the strips that will indeed delight the old-timers (like myself!). With a reprint volume of Sweeny Toddler coming this summer from the Treasury of British Comics it seems fitting that the diabolical infant leads the proceedings, with his former artist Tom Paterson – who worked at IPC/Fleetway in the '70s and '80s – bringing his busy, high-energy naughtiness back to Sweeny's world.  Giving another nod to the past, Lew Stringer provides a four-page round-up of some of those long gone but never forgotten humour weeklies like Whizzer and Chips, Krazy, Cheeky, Whoopee! and Monster Fun. It leads into a deliciously meta story by John Freeman and Lew Stringer (lettering here by Leila O'Millar) that teams up the leads of many of those weeklies in a quest to launch this new comic. Full of cameos, this will perhaps be the story that brings the biggest smile to the faces of those who read these characters' strips the first time around (although Tom Paterson's retro art on Grimly Feendish may come a close second).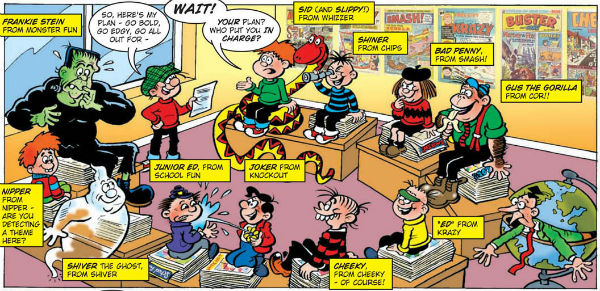 It's pleasing to see so many creators being allowed free rein to give their own takes on some of the featured characters as well. Alec Worley and Tiernan Trevallion's Kid Kong (lettering by A. Mann) give us a redesigned version of Kid Kong culminating in a scatalogical punchline (and a cracking one-panel pop cultural joke along the way) that nonetheless perfectly captures the spirit of the original. Wisely avoiding direct comparisons with the late, great Ken Reid, Steve Mannion's Faceache (the boy with a thousand faces) doesn't as much scrunge into a totally new identity with the elastic invention of Reid as expand into a more grotesque incarnation of himself. Ned Hartley's script also gives us a spot of fan service by crossing over with the era's similar Martha's Monster Make-Up (letters by Osvaldo Sanchez).
Lizzie Boyle and Abigail Bulmer, meanwhile, reintroduce denture-wearing shark Gums (with lettering from Simon Bowland) that again updates the concept for 2019 but without losing the slapstick silliness of the source material. Edward Whatley's art on the Captain Crucial Vs. Fuss Pot strip also deserves a special mention for some of the true standout visuals of the issue; as do the many letterers involved whose work enhances the comedic nature of the characters' interactions throughout. Frankie Stein, Ivor Lott and Tony Broke, Hit Kid and X-Ray Specs are just some of the others to make long-awaited comebacks in these pages.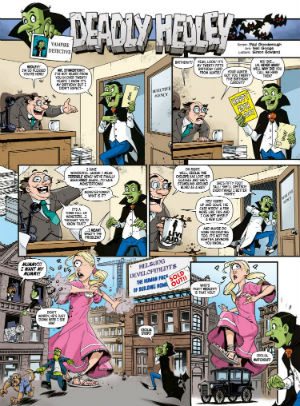 It was always going to be a difficult balancing act putting together a revival anthology that is accessible to new, younger readers but also has enough retro appeal that it leaves readers who remember these characters from their own childhoods satisfied. But Rebellion have achieved that here. Whatever group you fit into there's something for you in the Cor!! & Buster Humour Special. A very promising start for a year of similar output from Rebellion that we can only hope eventually leads to the regular presence of these titles on newsagent shelves again in the not too distant future.
Tom Paterson, Alec Worley, Ned Hartley, Lizzie Boyle, Gráinne McEntee, Paul Goodenough, Matt Smith, Lew Stringer, John Freeman, Robin Etherington, The Feek, Cavan Scott, Karl Story, Lee Langford, (W), Tom Paterson, Tiernen Trevallion, Steve Mannion, Abigail Bulmer, Sammy Borras, Neil Googe, Tanya Roberts, David Follett, Pye Parr, Mike Hoffman, Andy W. Clift, Edward Whatley, Mick Cassidy, Brett Parson (A), JR Senior, A. Mann, Ozvaldo Sanchez, Simon Bowland, Seymore Close, Moe Money, Leila O'Millar, Telford Porter, Oz, Karl DeCoy, Amber Cecilia (L), Jim Boswell (C) • Rebellion, £4.99
Review by Andy Oliver