SAFARI FESTIVAL FORTNIGHT!
As the profile of Breakdown Press's Safari Festival has grown and evolved since its inception three years ago it has become known as much for the notable international indie guests it secures as much as for being a vital showcase for experimental and boundary-pushing work. Last year included Simon Hanselmann, Joan Cornellà and Anna Haifisch among the headliners while this year sees Charles Forsman, Anya Davidson and Lane Milburn making the trip to London.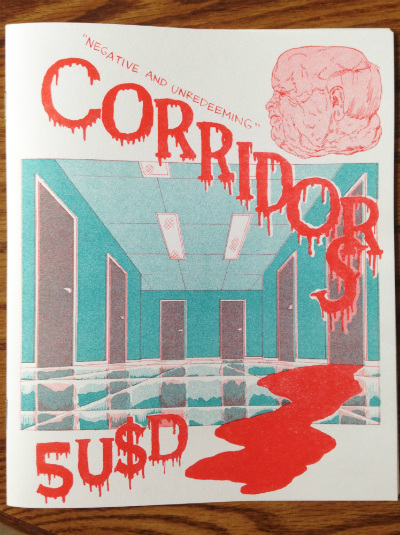 Lane Milburn, of course, is the Xeric Grant-winning creator behind the horror of Death Trap and the idiosyncratic sci-fi of graphic novel Twelve Gems published by Fantagraphics in 2014. He's also a contributor to Breakdown's Berserker magazine – one of a plethora of new books launched by the publisher in this festival week. Milburn will also be debuting a solo offering at Safari in the shape of 8-page minicomic Corridors.
Corridors is a disquieting juxtaposition of elements. It begins in an office building with a worker on a conference call. A comfort break leads him away from his desk and through the labyrinthine corridors of his workplace – cold, clinical passageways that are punctuated with moments of Buñuel-style outlandish imagery. On this short journey he will encounter everything from acts of random violence to apparent incursions from other planes of existence, through to the simple incongruity of a herd of deer passing him by.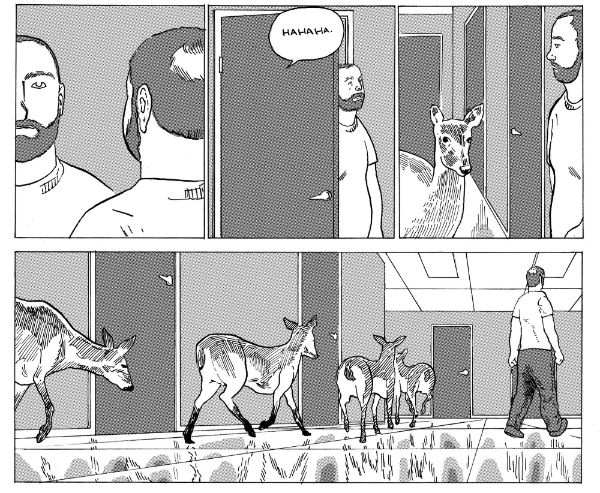 The true horror of Corridors comes not from these manifestations themselves but, rather, from the casual indifference of its cast of players to the brutality and grotesqueness that permeates their environment. How the audience interacts with the narrative may differ from reader to reader but whether you embrace it simply on the level of detached surrealist frightfest or interpret events as some form of social commentary on the ethics of the business world it remains a hypnotically entrancing visual catalogue of discordant elements.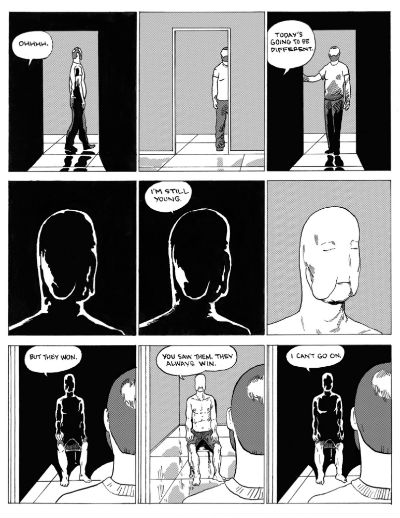 Milburn's tight-panelled pages, pacing and changing use of perspective creates the sensation we are being given a guided tour of this weird but ultimately very recognisable world. That sense of odd contrast is again emphasised by the clean lines and symmetrical sterility of the building being placed up against the organic and ever metamorphosing phenomena that inhabit its floors.
Safari is absolutely bursting with debut books this year but make sure that Corridors is very high on your must-buy list for this year's festival. This is exactly the kind of work that Safari excels in bringing to new audiences – comics that challenge, that foster a profounder connection between reader and page, and that remind us that the language of the form is a complex and versatile one indeed.
For more on Lane Milburn visit his tumblr here and his online store here where you can buy Corridors priced $5.00. Lane is also exhibiting at Safari Festival on August 12th.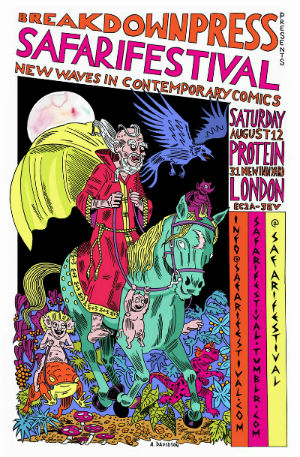 For regular updates on all things small press follow Andy Oliver on Twitter here.