A new graphic novel from Josh Hicks (Broken Frontier 'Six to Watch' 2017) is always something to anticipate eagerly and his new book Hotelitor has been on our radar here at BF for some time. Hicks is, of course, the man behind the sometimes funny, sometimes poignant, and always essential Glorious Wrestling Alliance comics. Check out the cover for the book below as well as more info on one of the definite hot picks in comics for 2024.
Lerner announces HOTELITOR by Josh Hicks
You will believe a hotel can punch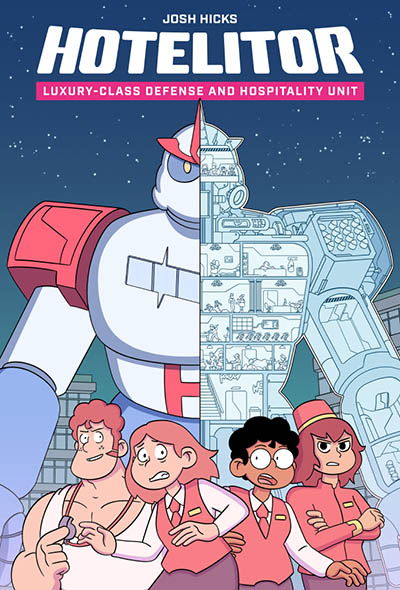 Lerner Publishing has announced the Spring 2024 release of Hotelitor: Luxury-Class Hospitality and Defense Unit, the latest graphic novel from Welsh cartoonist Josh Hicks.
A bombastic sci-fi action comedy, Hotelitor follows the staff and guests of the titular giant robot hotel in the wake of a sudden alien attack that leaves the craft stranded in deep space. There, 18-year-old intern Anna Greene is forced to take charge. Alongside her fellow entry-level service workers, she must try to control the chaos while rival factions emerge, wealthy VIPs seize hotel resources, and the bar's musician-in-residence develops a literal cult following. As Anna and her comrades search for a way home, shocking discoveries about Hotelitor's corporate owners await them–if another giant alien doesn't smash them all to pieces first.
Josh Hicks' previous comics release, Glorious Wrestling Alliance: Ultimate Championship Edition, was published by Lerner in 2021 to critical acclaim. In the interim, Hicks has illustrated children's books, served as co-designer of the Glorious Wrestling Alliance card game, and directed the animated short Spectre of the Bear, starring Craig Roberts and Bill Nighy. Hotelitor marks his first long-form comics release in over two years, and also represents his first dealings with giant robots, hotel-based or otherwise.
Hotelitor: Luxury-Class Hospitality and Defense Unit is slated for release in hardback and softcover on May 7th 2024.
Praise for Hotelitor:
"A hilarious, fist-pumping, heartwarming genre mashup across the universe, with bright and beautiful artwork and characters. Pacific Rim meets Fawlty Towers… only good." –Hamish Steele, creator of Netflix's Dead End: Paranormal Park
"Hotelitor is one of the funniest sci-fi comics we've ever read, and Josh's cartooning is a delight for the eyes."–Sarah Graley and Stef Purenins, authors of Our Super Adventure
Praise for Glorious Wrestling Alliance:
"Spine-crushing fun."– Kirkus Reviews
"This campy graphic novel is a knockout."—School Library Journal
"[A] delightful story about characters beating their self-doubt with metaphorical steel chairs… a mix of silly fun with gentle introspection. Wrestling fans will get a superkick out of this." – AIPT Comics
"A kinetic spectacle of leg drops, championship title matches, and anxiety." – The Beat