The artist said it himself and it's set to be a cliché in relation to his work, but it's true that Nathan Cowdry's Crash Site is not for everybody. Not being for everybody, however, is exactly what gives the reader the frisson of pleasure when embarking on reading Crash Site. It's a singular, joyously bizarre ride. There's no attempts for universality here and no effort to placate potential detractors. But good. Crash Site is a comic that tickles your ribs and also strikes them a few times with a hot poker.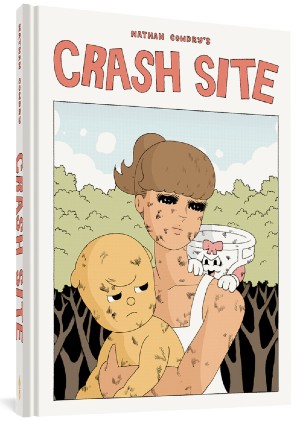 An early indicator of Cowdry's distaste for linear and logical narratives, we start with a detour: a Christian missionary couple are getting married on a boat in the Amazon. Sneaking out from the party to finally enjoy, *ahem*, works of the flesh, they stumble across a dog named Denton, whose entrails are laid out on the rainforest floor like a victim in a video nasty.
Denton eventually comes to consciousness in a veterinary practice, where he is asked by a detective to explain his situation. The rest of the tale is mostly told in flashbacks. Denton recalls how he was being used as a drug mule by his owner, Rosie, who was attempting to take 50k worth of cocaine back to England, and how a violent, scheming and obnoxious pair of pants ended up as their antagonist.
Most of the pleasure in reading this book has nothing to do with the story, that's all in the art and the dialogue. It's easy to see the practice, energy and concentration that's gone into the work. His clean lines and unfussy yet effective environments draw one's attention almost entirely to the characters. He's able to depict subtle changes of expression and exploit oversized panels to add comedy and drama in equal measure.
Cowdry's Instagram account demonstrates he's a master of swipe left comics and that genre's reliance on expertly crafted trans-panel pacing. This skill is also apparent in Crash Site. Jokes and gross-out moments mostly land well – if sometimes uncomfortably. Despite the gore, vulgarity, nudity, and everything else, the visuals still feel somewhat restrained thanks to the block colouring, for which muted shades are commonly used. The book's dark-to-dry humour comes out of another juxtaposition: the cute aesthetic is paired with an explicit depiction of the sort of unfettered desire which is often stalking just underneath the cute aesthetic's surface.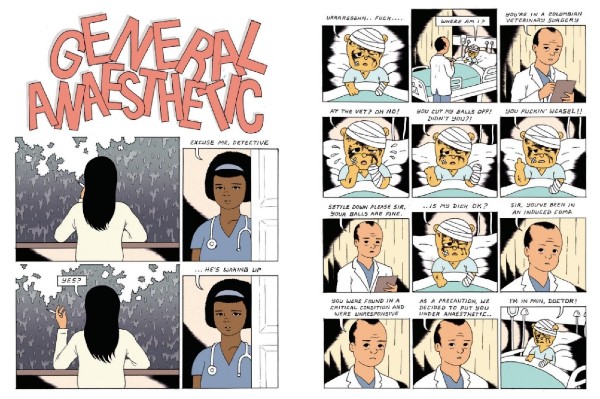 Attempts to pleasure audiences with shocking content is a long running theme in both Western and Japanese comics. Stylistically, Cowdry's clearly indebted to manga, but his social and cultural targets and themes are oriented towards the occident. Anyone who has spent more than a few minutes with Crumb's Mr. Natural or an episode of South Park will be able to sense where Cowdry's humor is coming from. A little like both of those, Crash Site's downfall may well come when the relevancy of the topics of some of the jokes disappears. Will a juvenile ejaculation joke about white privilege and wokeness still be funny in five or ten years' time? There's also a beastiality gag which falls flat.
What is more likely to stand the test of time and also works most effectively in the present is when Crash Site impresses upon the reader the hypocrisy of our male-gaze culture. In the world we live in, depictions or representations of girls of indeterminate age are sexualised through all sorts of visual sleights of hand but exist in a puritanical context wherein actual genitals and sex are generally taboo. Crash Site flicks a big V to this hypocrisy. The most obvious case in point is when Rosie and friends, who up until that point had been enjoying sunbathing nude on a beach, give an ogling and censorious lifeguard a good kicking.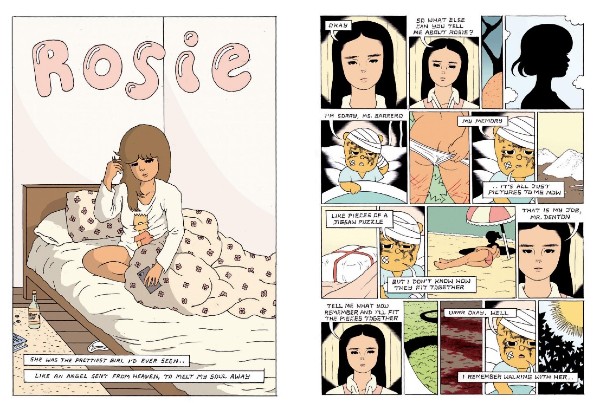 (That the book is easily purchasable does point to the fact that there has been some cultural changes in recent years. It was only a few decades ago that work by Savage Pencil was being burned by UK customs officers because there was a cartoon willy amongst the other doodles.)
In a quote on the back of the book, Simon Hanselmann describes this book as "transgressive". That's certainly true. It's also absudist, and as wild as the forest that Rosie, Denton and the evil underwear find themselves lost in. There's plenty of jokes, but the concept of acceptability seems to be the biggest punchline. None of the cattle prod tactics would matter were it not for Cowdry's excellent skills as a cartoonist; the shock aspect may be what draws the curious to Crash Site in the first instance, but it's Cowdry's precision and craftsmanship which is what'll bring them back.
Nathan Cowdry (W/A) • Fantagraphics Books, $24.99
Review by Nicholas Burman