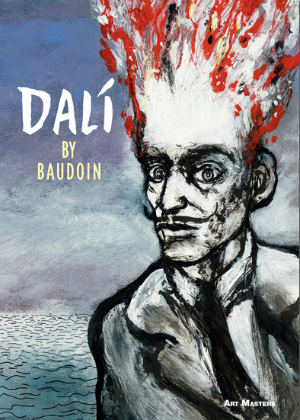 Published as part of SelfMadeHero's Art Masters series, Dalí recounts the life and work of the Spanish surrealist painter as brought to the comics page by Edmond Baudoin, the legendary French creator. Baudoin chooses to place the broader record of Salvador Dalí's colourful life in the fixed interpretive narrative of his familiar imagery, positively engulfing the reader visually in the disconcerting splendour of his oeuvre.
Baudoin's approach eschews simple appreciation to investigate not just the work of the great man but also his character, his temperament and the very forces that shaped him. His troubled childhood, the spectre of the brother with whom he shared a first name and who died before he was born, and the early death of his mother are all examined as factors that would play their part in the later thematic explorations of his practice.
This is no exercise in mere lionisation then. Baudoin provides a warts-and-all account that acknowledges the brilliance of his subject without ever losing sight of the foibles and problematic elements of his personality that doubtless fed into his genius. Never turning a blind eye to Dalí's self-indulgence and his ostentatious exhibitionism, the book follows his story from his early associations with Federico García Lorca, Andre Breton and Luis Buñuel, his intense partnership with future wife Gala through to his early forays into the US. Through both his astonishing catalogue of work and the tantalising projects that never quite happened – collaborations with Hitchcock and Disney for example – Baudoin provides keen insights into this most mercurial of major twentieth century figures.
What particularly elevates this offering in the ranks of graphic biography is Baudoin's appropriation of Dalí's imagery, signature style and visual metaphor and his application of it in his panel-to-panel storytelling. It ensures that every page exudes the vision of the great man and adds a very meta layer to the proceedings, providing a positive sensory overload of Daliesque distortion.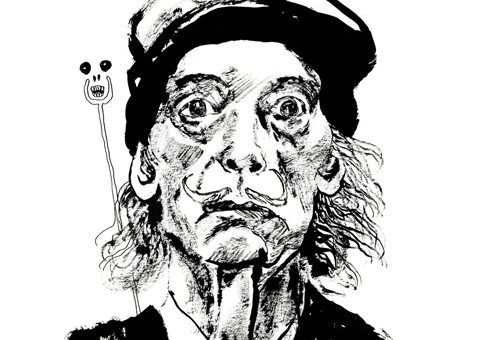 Clearly meticulously researched, Dalí is as much about what informed the recurring symbolism of his art and his worldview as it is an historical account. It's also an opportunity for Baudoin to give his own commentary on a man who was as much a performer as an artist and one whose behavioural eccentricities are arguably remembered as much as his output in the wider public consciousness.
While the latter years of Dalí's life are significantly condensed herein in relation to his pre-Second World War activities, Baudoin's main focus is on the essence of the man rather than his exact chronology. This is a layered and perceptive use of the form that will immerse both committed aficionados and those wanting a visual primer in the artist's life and work.
Baudoin (W/A) • SelfMadeHero, £12.99/$19.95
Baudoin will be the guest artist at this Friday November 10th's Gosh! Comics and Broken Frontier Special Edition Drink and Draw in association with SelfMadeHero and the Institut Francais. More details here.