Here's a neat idea from UK publisher SelfMadeHero to help some of our very favourite institutions in these challenging times. The #DrawYourBookshop initiative launches on Wednesday November 18th. Full details below.
UK GRAPHIC NOVEL PUBLISHER SELFMADEHERO CHALLENGES YOU TO #DrawYourBookshop CALLING ALL ARTISTS! CALLING ALL BOOK-LOVERS!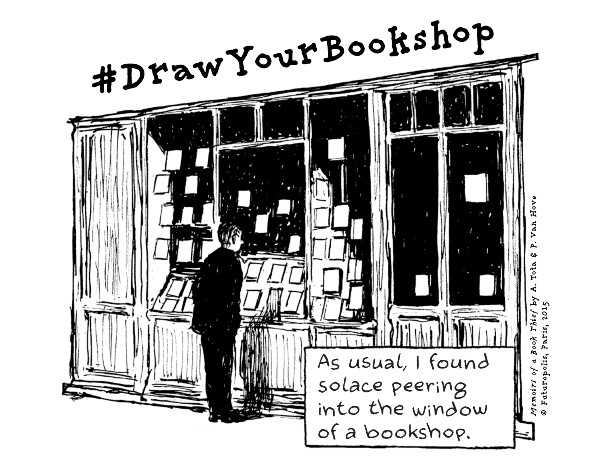 Graphic-novel publisher SelfMadeHero is proud to announce a new social media campaign via Twitter on Wednesday 18 November! #DrawYourBookshop is a callout for all artists to support our bookshops during lockdown with a quick sketch, drawing, or masterpiece of their local favourite store.
With theatres dark, concert venues closed, cinemas silenced, and galleries shut during lockdown, it is time to re-brand our bookshops as an essential service, and recognize the existential crisis they are facing. Now more than ever before, in the delayed runup to Christmas, bookshops need to be seen and celebrated on social media, through all possible means – and the most possible means is through the unique combination of word, image, and print that is comics art.
At the same time, #DrawYourBookshop also gives the chance for artists to make their work known to the people who might one day publish it, for a reader who doesn't yet know they love it, and who will one day find it in one of the bookshops we must now do everything we can to save.
So if you're a first-time doodler-cartoonist or a dedicated artist – whether it's a quaint second-hand bookshop or part of a coffee-fragrant chain you want to celebrate – Draw Your Bookshop – and help save the greatest ever human invention: The Book!
(Image above from Memoirs of a Book Thief by A. Tota and P. Van Hove)