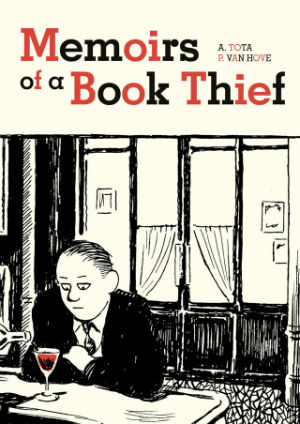 Daniel Brodin is a man of many facets, few of them admirable. He considers himself a bibliophile but his love of prose is enabled by his practice of pilfering from book shops. But Brodin's life is about to take an unlikely turn when he finds himself the toast of early 1950s Parisian literary society, after catching their attention with his verse at a poetry night. Unfortunately, though, rather than performing his own surrealist poetry he actually recited what he hoped was the unheard work of an Italian poet. The question remains, with the foundations of his new literary life so shaky in construction, how long until they collapse underneath him?
Memoirs of a Book Thief is another entry in publisher SelfMadeHero's line of European comics, written by A. Tota, illustrated by P. Van Hove and translated by E. Gauvin. It's a story that works on a number of levels with its cutting commentary on art, authorship and perception just one aspect of a bleak, black comedy that borders on high-brow farce on occasion. Living with the ever present prospect of inevitably being found out for his deceitful behaviour Brodin falls in with a group of anarchist artists that include the manipulative Gilles, Linda and the intimidating Jean-Michel. Sometimes a direct pawn of others and sometimes a patronised plaything, he is soon swept away on the current of his own pretensions and deceptions.
Van Hove's artwork combines stark realism and occasional caricature, portraying a large cast with expressive linework and a nuanced approach to visual characterisation. A sense of time and place is obviously vital in capturing the posturing of the era and society the book explores but sudden breaks into cartoon slapstick (Gilles' mocking perfrmance at a high society party) or sidesteps into more abstract repesentational visuals (sequences depicting an alcohol-affected view of surroundings) are as important in defining the book's many characters and their motivations.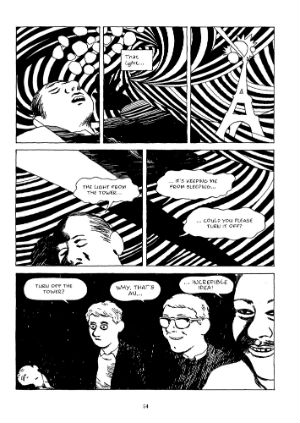 Memoirs of a Book Thief rewards a second reading for the aditional insights it gives the reader into Tota's piercing thoughts on the conspicuous pomposity of this world; whether it be the preening, self-avowed literary movers and shakers of the scene or the artistic revolutionaries whose nihilism is no less worthy of satirising. In the midst is Brodin, a nobody suddenly elevated to a position he could never have dreamed of, not through any inherent worth or ability but for the different things he represents to aesthetically opposing movements. He's a man who comes to think he is skewering the pretensions of those around him but in reality is only drowning in his own delusions of self-importance.
Going off on an unpredictable tangent, and eventually adding an element of the meta to Brodin's life, Memoirs of a Book Thief is a delightfully dark account of a man who buys into his own invented legend. Four months into 2019 and this is already proving to be an exceptional year for SelfMadeHero.
A. Tota (W), P. Van Hove (A), E. Gauvin (Tr.) • SelfMadeHero, £14.99
Review by Andy Oliver