When Sophie and Scarlett Rickard adapted Robert Tressell's The Ragged Trousered Philanthropists for SelfMadeHero in 2021 they introduced an always relevant socialist masterpiece to a new audience of readers at a point in time when its message could not have been more important. Their most recent project from the publisher brings another novel to the comics page. But in this case Constance Maud's No Surrender, first published in 1911, is admittedly less celebrated despite its vital importance in depicting the fight for votes for women in the UK. Noted English suffragette Emily Wilding Davison, herself, described it as a book which "breathes the very spirit of our Women's Movement."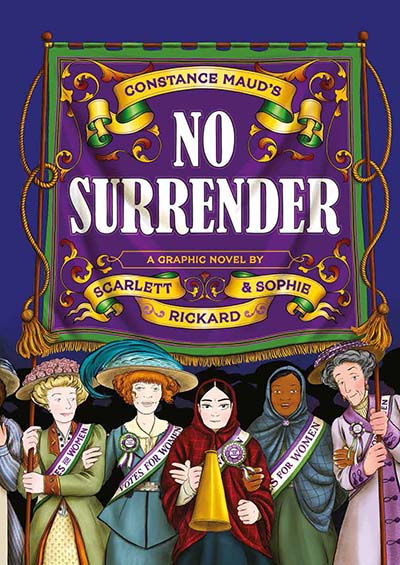 No Surrender, then, was written as a rallying cry for the women's suffrage movement while their struggle was still very much ongoing. It tells the interlinked stories of two young women from very different backgrounds. Jenny Clegg is a mill worker whose chance encounter with the well-to-do Mary O'Neil will see both women become close allies in the fight to give women the vote. Jenny's world is upturned as she becomes a powerful orator and activist while Mary foregoes her privileged existence to join her sisters on the frontlines of the protests.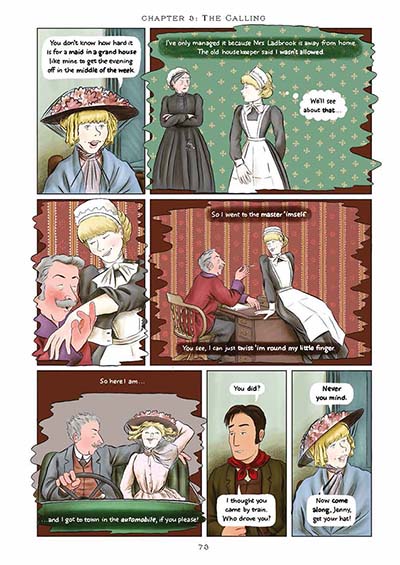 The novel follows the duo both in their work for the cause together and individually. We observe them as they convert the most unlikely individuals to their cause, endure the hardships of prison as a consequence of their beliefs, humiliate the powerful (one scene set at a posh dinner party is particularly memorable here), and continue to push back at social injustice wherever it rears its ugly head. At the same time a number of interweaving plot threads surrounding the pair's families and friends allow us to experience reactions to the issues raised from a number of different perspectives.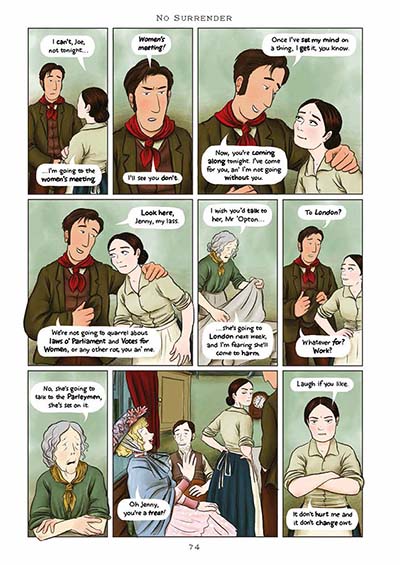 Unlike The Ragged Trousered Philanthropists the characters of No Surrender were entirely new to me so in terms of the dynamics of adapting this novel to the comics page my knowledge is limited. What little I have gleaned from my limited research is that the novel is perhaps more notable as a rare social record than as a work of great literature. Nevertheless the Rickard sisters' translation of prose to sequential art feels as important here as it did in their previous SelfMadeHero offering. Much of No Surrender focusses on a cast of different social classes discussing their own viewpoints on the suffrage movement and, as with The Ragged Trousered Philanthropists, that requires Scarlett Rickard to be continually inventive visually to ensure that reader interest is maintained and talking heads syndrome is never in the ascendancy.
There are undoubtedly fascinating insights into the era to be found here. The cruel reality that ardent working class socialists could be as against the vote for women as their pompous, privileged opposites, for example. As the women's efforts become more strident so do to their ramifications, and a later scene of a hunger-striking Mary being force-fed in prison is unforgettable in its brutality.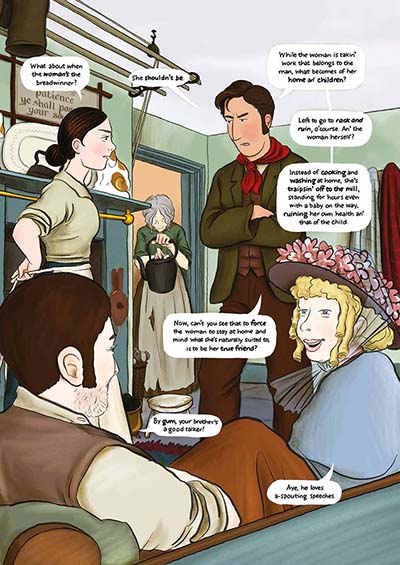 As with The Ragged Trousered Philanthropists the careful design considerations add to the period feel and authenticity of the book. The same use of illustrated chapter headings sets the tone for each section and establishing shots give us a sense of space and environment. Again, there's that adoption of stripped back visual characterisation of a cast who exist on an otherwise realistically depicted background that ensures our empathy is gained from our first connections with the protagonists.
No Surrender was nominated in last year's Broken Frontier Awards in the Best Graphic Novel category. A book that still has much to say a century on and one that in these dark times is a reminder that the fight for civil rights is a never-ending one.
Sophie Rickard (W), Scarlett Rickard (A), David Hine (E), adapted from the novel by Constance Maud • SelfMadeHero, £18.99
Review by Andy Oliver