Chicago-based Daniel Warren Johnson created something truly unique with Space-Mullet, his space trucker buddy comedy webcomic, so it's no wonder that publishers are starting to pay attention.
Daniel Warren Johnson is contributing to the Broken Frontier Anthology, created to celebrate the magic of creator-owned comics. Check our Kickstarter campaign and please share it with your friends on social media using #BFanthology. You can find Daniel on Twitter @danielwarrenart.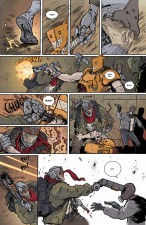 Daniel contributed a backup story to Brandon Graham's run on Prophet, while The Ghost Fleet, his collaboration with writer Donny Cates, launched at Dark Horse in November last year. All of his work shows a knack for dynamic set-pieces, animated characterization, and widescreen drama – oh, and a "stellar" eye for detail.
Broken Frontier is proud to feature Daniel's work in our anthology project. Enjoy this inside look at his working process, influences, and where you'll be seeing his name next.
Welcome aboard the project, Daniel! Could you talk a little about the moment you first knew you wanted to make comics?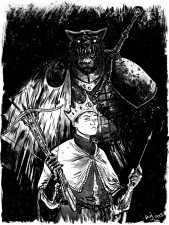 DANIEL WARREN JOHNSON: Yes! The first time I opened Calvin and Hobbes, I immediately wanted to imitate the lines Watterson brought to a 2-D space. There was so much imagination and life, I couldn't help but be inspired. It's that expression that I still shoot for when I draw comics today.
Your first major project is the ongoing webcomic Space-Mullet, following an ex-Space Marine trucker and his alien co-pilot. How did this project get started, and what were some of the influences behind it?
Space-Mullet was basically a big canvas for me to experiment with. I wanted to make sci-fi comics, but I didn't know how, and I knew the only way to learn was to DO it, every day.
I wanted the epic space opera mixed with the intimacy of Firefly. I know that's not original, but I did my best to give it my own thumbprint and voice, and it's been an awesome experience. Many tears, but many victories also.
In 2014 you also launched The Ghost Fleet (following a black-ops trucking service) at Dark Horse with writer Donny Cates. What has it been like working on your first ongoing series at a publisher – and any worries about getting shoehorned in the "trucker action" genre?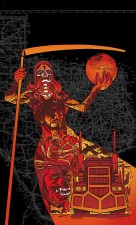 Hah, not really. When Donny offered me a shot at Ghost Fleet, I knew that my artistic muscles would be tested. I had NO idea how to draw a big rig! So, if anything, I was worried I wouldn't be able to perform to the level that would do the story justice.
But that's the cool thing about comics. You just dive in and make mistakes and you DO get better, one way or another. It's cool to see. I can draw a mean truck now, and my storytelling skills are way more honed now than they were before Ghost Fleet. I owe that book – and Donny – a lot.
I love how your art can go from hyper-detailed to loose and animated. How would you describe your style and artistic process?
I make sure while making my thumbnails to plan out my blacks and vanishing points, so I know where my foundation lies when I move to penciling. I try and keep things loose in the pencils, because it's never the finished product for me, because I always ink my own work.
It's a fine line between clarity, detail, and movement. I want people to get lost in my drawings, but not at the expense of the momentum of the story. Also, I don't want to burn out with too many details in my drawings. It has to be fun for me to draw!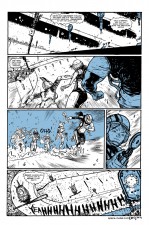 What can you tell us about your work for the Broken Frontier anthology?
Yes! Phil Hester is writing a Vikings vs Monster story. Phil specifically asked me what I wanted to draw, and that's what I told him. So I think we can bring something new to the table, while also having a ton of fun. I'm excited!
What other current and upcoming projects do you have lined up?
Nothing I can talk about officially, but there's a TON of stuff in the works, and it's all crazy exciting. I can't wait to tell people!