Jen Van Meter and Roberto de la Torre propel this obscure 1990s classic into the 21st century with style, sophistication, and smarts.
The Second Life of Doctor Mirage, despite possessing one of the coolest titles for a comic book ever, only ran for a meager 16 issues when it was first published by the original Valiant Comics in the 1990s.
It explored the relationship between married paranormal investigators Hwen and Carmen Fong as they battled dark forces arising from the afterlife. The series offered an interesting twist on the supernatural superhero, made all the the more intriguing for Hwen's transformation into a powerful incorporeal necromantic being.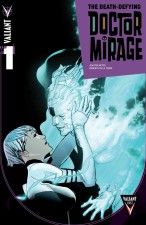 In its ongoing effort to slowly but surely expand its popular comic book universe, Valiant has returned to the property, co-created by the legendary Bob Layton, combining superheroes and the supernatural to startling effect.
Key to the success of this book – and the rest of Valiant's line – is the publisher's almost preternatural ability to attract top-notch funny-book folk to their projects and then have the smarts to step back and let their creators get to work doing what they do best – creating high-quality, engaging comics.
Jen Van Meter and Roberto de la Torre pull out all of the creative stops in this first chapter, laying the foundation for the rest of the five-issue limited series with style and craft.
In this incarnation, Doctor Mirage is widowed Shan Fong, the surviving half of the world's greatest married paranormal investigators. Still grieving the loss of her husband Hwen, Shan takes schlocky medium gigs to pay the bills, always on the lookout for the one person she can't seem to contact in the hereafter.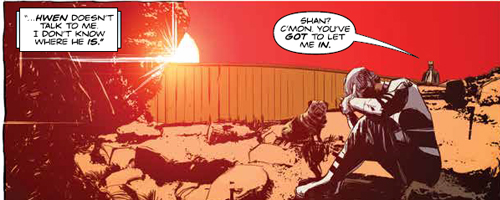 Van Meter takes great pains to depict Shan's personal torment right from page one, as she engages a group of widows seeking closure for the loss of their loved ones. It's a painful scene that sets up the core conflict of the book's protagonist with empathy and craft.
The audience immediately understands that while she's able to grant closure to her clients, it is the one thing that eludes Shan herself. Just imagine being the greatest medium the world has ever witnessed, only to be unable to contact the one soul that will grant you the closure you provide for countless others during the course of your day job.
It's not until she agrees to consult with a shady ex-military billionaire that Shan experiences a glimmer of hope of contacting Hwen, thanks to what appears to be a captive necromantic being in her new client's heavily warded home. This prompts Shan to accept the gig, despite obvious misgivings about her client's past, as an off-the-books black ops specialist, and his collection of supernatural esoterica.
Van Meter's sharp dialogue and spot-on character development allow the audience to truly believe in her protagonist's painful personal quest for closure. And thanks to Roberto de la Torre we get to see that pain and grief in all of its ugly beauty.
De la Torre's art compliments the moodiness of Van Meter's tightly plotted script with detailed, atmospheric settings and wonderful emotion. Both Shan's pluckiness and the very real pain she feels over the loss of her husband come alive in de la Torre's expressive faces.
The visual storytelling here shows maturity and restraint, never becoming muddy or hard to read despite de la Torre's liberal use of blacks. In lesser artistic hands, this issue could have degenerated into a hot mess of scratchy shadows and awkward transitions.
A wonderful example of how to retool a seemingly forgotten property for a more sophisticated modern audience, Van Meter and de la Torre's incarnation of The Death-Defying Doctor Mirage is slick and stylish, but never lacking in substance or craft.
And damn but I love that new title just as much as the original!
Jen Van Meter (W), Roberto de la Torre (A) • Valiant Entertainment, $3.99, September 3, 2014