This year's Ghost Comics Festival comes to the Art School in Glasgow this Saturday October 26 with an impressive array of alternative and contemporary comics creators. Combining the type of work that makes Safari Festival and ELCAF such a draw for us here at Broken Frontier alongside the kind of socially aware organisational thinking that made Bristol Comic and Zine Fair such a benchmark for good practice, this second edition of the event is co-ordinated by Jules Scheele (they/them) and João Sobral (he/him).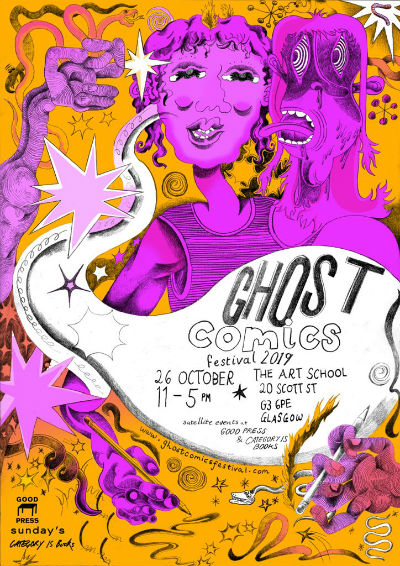 What's immediately striking about the exhibitor line-up is that for all the artists/micropublishers/collectives to have been featured here at BF over the years (including Grace Wilson, kuš! Comics, Jem Milton, Paul Jon Milne, Maria Stoian, O Panda Gordo, Rachel O'Regan, Rob Jackson, Sinae Carrotate Park and many more) there are as many whose work is less familiar to us. It's events like this where new indie favourites are discovered and alt comics treasures are unearthed, and we're incredibly envious of anyone making the trip to the festival this weekend.
The event runs from 11.00-5.00 with a "quiet start" between 11.00 and 12.30. Apart from the main comic fair itself there's four days of pre-festival satellite events at Good Press and Category Is Books beginning tomorrow Tuesday October 22nd including comics readings, book launches and what looks like an unmissable panel event on 'Gender Fluidity and Visual Storytelling'. On the day itself there are also a number of workshops including experimental comics with João Sobral, a fantasy comics generator with Jem Milton (he/him, they/them), a workshop on comics and their unique relationship with time with Esther McManus (she/her), and an autobio comics one with Joana Estrela (she/her).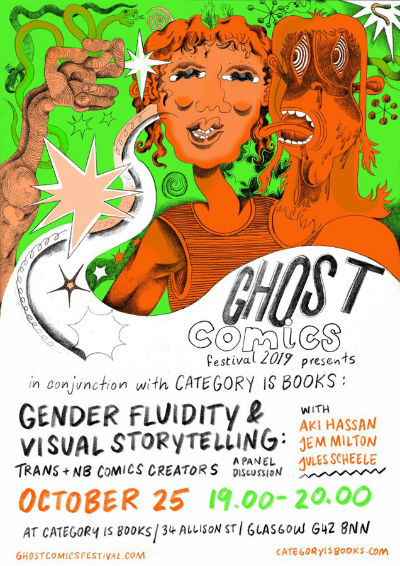 The full list of exhibitors is below but we obviously recommend visiting the Ghost Comics Festival site here for details of all the events alongside fuller listings for programming. In terms of both ethos and coverage this is exactly the kind of event we need far more of in comics and if you're anywhere near Glasgow this Saturday (or the preceding days for the satellite events) we can't recommend it more highly!
Exhibitors
Ad Nauseam Press – Bas de Geus, Ben Williams & Sam Wood, BO_ING Comix – Chien-Fan Liu, Day Job Studio – Ella McLean & Grace Helmer, Dylan Hall, Eli Spencer, Emma Roulette, Esther McManus, Fart Jokes Club, FML Comics, George Manson & Luke Humphries, Grace Wilson & Gloria Oyster, Ida Henrich, Jem Milton, Jo Ruessmann, Joana Estrela, Jules Scheele, kuš! & Pauls Rietums, Lord ZOM, lottie puncheon, Luke Finch, Major and Healthy Repulsion – Paul Jon Milne & Sarah Doherty, Marc Baines, Maria Stoian, Molly Fairhurst, Nicola Henry, O Panda Gordo – João Sobral, ok no studio – Hannah Nixon & Jessica Taylor, OOMK – Sofia Niazi, Power Couple Press – Aki Hassan & Nathaniel Walpole & Konstantinos Moutzouvis, Rachel O'Regan, Rebecca Cottrell, Riso Sur Mer – Inès Gradot, Rob Jackson, Santiago Taberna, Sinae Carrotate Park, Smoochie Press, Sophie Robin, Steven Fraser – Do It Theatre, Stripburger, Tender Hands Press – Saffa Khan Tessa Mackenzie & Suds McKenna, tin beetle books & sunboy toys – Isobel Neviazsky & Katie Lundie, Tutti Frutti – Daisy MacDonald & Johanne Deffarges & Julia Syrzistie & Ollie Scott & Verity Pease, Valletta House
Poster design by Aki Hassan (they/them) and Nathaniel Walpole (he/him).
Follow Ghost Comics Festival on Twitter here and on Instagram here.