Press Release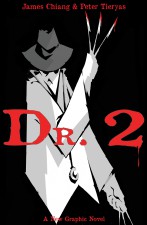 Shanghai, WWII Internment Camps, and a bizarre New York City murder case intersect in the first issue of DR. 2, a kinetically visceral thriller set in a frightening, yet eerily plausible, future.
A physician with a mysterious background, Dr. 2 is the most sought after expert on "unsolvable" crimes. But nothing can prepare him for the maelstrom of chaos that awaits as he's forced to delve into a world of passion, destruction, and tragedy, all connected to a woman from his own past.
This issue (Amazon) serves as an introduction to DR. 2: A FEAST OF SCENTS, the full graphic novel, that will be releasing at a future date.
Praise:

"Breathtaking illustrations that would leave Frank Miller envious." -Craig Wallwork, Author of To Die Upon a Kiss
"The artwork of Dr. 2 is completely different to any artwork I've seen before… The creepy atmosphere definitely captivated me." -Music, Books, and Tea"If Frank Miller ever hooked up with William Gibson, Dr. 2 could be their brainchild. Who ever thought of a noir acupuncturist? The artwork is stark and beautiful." -Geoff Hemphill, Animator ILM, Blue Sky Studios, Digital Domain.
 
About the Creators: James Chiang is a professional artist whose career spans across prestigious companies such as  LucasArts, Walt Disney Feature Animation, Blue Sky Studios and Sony Pictures Imageworks as well as studios in Asia such Sparky Studios and One Animation, where he most recently served as both Animation and Creative Director. His filmography includes Robots, Ice Age2: The Meltdown, Open Season, the Oscar nominated Surf's Up and the upcoming series Oddbods which he helped create and direct.Peter Tieryas is the author of Watering Heaven (2012, Signal 8 Press) and Bald New World (2014, Perfect Edge Books). His work has been published in literary magazines like the Camera Obscura Journal, Evergreen Review, Gargoyle, Hobart, Indiana Review, New Letters, New Orleans Review, and ZYZZYVA. He was the recipient of the 2012 Fiction Award from Mojo(Wichita State University), and was long-listed for the Frank O'Connor Int'l Short Story Award. He has also worked as a technical writer for LucasArts, the gaming division of LucasFilm and is a VFX Artist whose film credits include Alice in Wonderland, Men in Black 3, Cloudy with a Chance of Meatballs 2, and G-Force.