Press release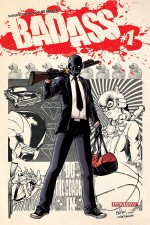 Dynamite proudly announces the January 2014 release of Bad Ass #1, the first chapter in wickedly funny and explosive four-issue comic book miniseries.  Written by Herik Hanna and illustrated by Bruno Bessadi, Bad Ass tells the story of Dead End, an unstoppable vigilante with devastating wit and brutal tactics.  He may claim to be a masked avenger… but he's a villain through and through, with a cause even greater than serving justice: serving himself!
"With Bad Ass, we are delivering a true tribute to — and parody of — American superhero comic books," says artist Bruno Bessadi.  "Dead End is an antihero with uninhibited wickedness, which — let's face it — we all secretly wish we could embrace.  It's pure black humor and action, through and through!  Publishing Bad Ass at Dynamite is like a dream come true.  I'm very excited about this new adventure!"
Writer Herik Hanna says, "I was asked to talk about my love for the series, and for its main character.  Who said I like this guy?  He was there one morning on my doorstep, a smile on his face and an M4 in his hands.  He said, 'Write.'  I said, 'Uhm…okay.  Coffee?'  I have to live with this guy now.  I was also asked to talk about its main appeal.  Playmates, ducks and guns, I think.  And the great work of Bruno Bessadi and Gaëtan Georges.  And playmates."
"Never before has there been such a quick-witted and highly intelligent vigilante, a hero you would love to hate," says Nick Barrucci, CEO and Publisher of Dynamite.  "While characters like Deadpool are more about slapstick humor, Dead End is more about the quick-witted answers, delivered with a hysterically crushing apathy.  We like to think it should have the tagline, 'If Deadpool and Kick Ass had a baby, it would be Bad Ass.'  And I'd also go so far as to say that Bad Ass fills a void left in fanboy and fangirl hearts after The Boys, our bestselling and envelope-pushing series by Garth Ennis and Darick Robertson, came to its explosive end.  If you want violence and sick humor, if you crave madcap antics and irreverence, Bad Ass is your next big thing!"
Bad Ass #1 will be solicited in Diamond Comic Distributors' November 2013 Previews catalog, the premiere source of merchandise for the comic book specialty market, and slated for release beginning in January 2014.  Comic book fans are encouraged to reserve copies of Bad Ass with their local comic book shop or hobby specialty store.  Each issue of Bad Ass will also be available for individual customer purchase through digital platforms courtesy of Comixology, iVerse, and Dark Horse Digital.