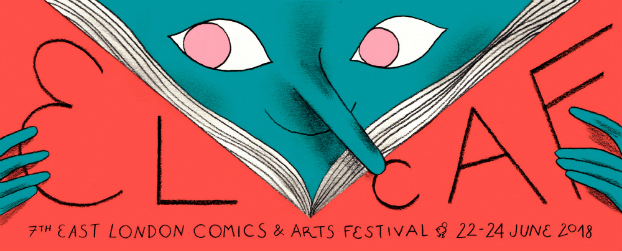 ELCAF FORTNIGHT!
Nearly six years ago at Broken Frontier I wrote very briefly about the buzz surrounding a brand new comics show on the UK indie circuit saying of it that "there was a very palpable sense of excitement at the festival that we were witnessing the birth of something new and invigorating."
That event was, of course, the very first East London Comics and Arts Festival (ELCAF) in 2012, founded by Nobrow Press, and taking place in an absolutely packed Village Underground venue. With a programme that included Paul Gravett interviewing Blexbolex, Blank Slate's Martin Steenton interviewing no less than nine (!) creators in an hour and a half, the very best in small press and illustration exhibiting, and McBess as artist-in-residence, the day was a huge success. You can experience that first ELCAF again in the video below.
Since then ELCAF has continued to evolve but has never lost sight of that core aim to "introduce and celebrate both small press publications and the dynamic community of individual artists and collectives that are pushing the boundaries of comics and illustration to a growing public." ELCAF now takes place over three days in June in its now regular home of the Old Chapel in East London, and it has undoubtedly become one of the most awaited and prestigious events in the UK comics calendar. It's certainly one of our favourites at Broken Frontier as you can see by our team's enthusiastic write-up of ELCAF 2017 here last year (below).
Since 2015 I've been chairing panels at ELCAF and we have been giving the festival dedicated coverage in the lead-up. But this year at Broken Frontier we're very pleased to be more integrated in this wonderful celebration of comics and illustration than ever before. Today marks the beginning of two weeks of pre-festival coverage on the site with all relevant articles tagged as 'ELCAF Fortnight 2018' for easy access. We'll be running reviews, interviews and features with, and about, exhibiting and guest creators and their work right up until the first day of the event. And, as in previous years, we'll be relaxing our usual comics remit to let us take the odd sidestep into the worlds of illustration and graphic design as well.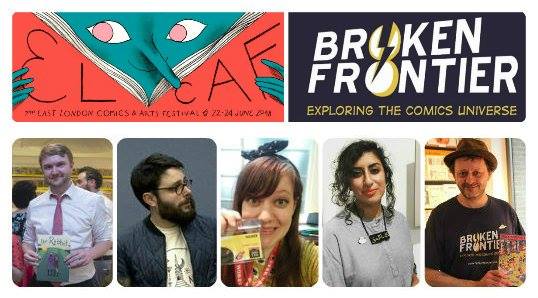 2018 marks the first year that Broken Frontier has been an official festival partner and we're looking forward to participating in ELCAF in a number of capacities. No less than seven BF-ers will be attending (EdieOP, Ally Russell, Jenny Robins, Tom Baker, Tom Murphy, Holly Raidl and Andy Oliver) over the weekend. I'll be looking at portfolios as part of the Springboard Meetings on the Friday and on the Saturday late afternoon I'll be chairing this year's Broken Frontier panel  on 'Comics and Routes into Publishing' with BF's own EdieOP (Maleficium creator and British Comic Awards nominee), Ricky Miller (Avery Hill Publishing), Tom Oldham (Breakdown Press and Gosh! Comics) and Sabba Khan (Myriad First Graphic Novel Competition shortlisted artist and 2017 Broken Frontier 'Six to Watch' creator) on the panel. We will also be tabling for the first time on the Saturday next to It's Nice That, maintaining a media presence and also selling Broken Frontier-related comics fare.
Bookmark our ELCAF Fortnight 2018 tag to keep checking in for new articles over the next couple of weeks. We can't wait to start sharing some of the great coverage we have coming into ELCAF and we're looking forward to interacting with as many of you as possible over June 22nd-24th!
– Andy Oliver, Broken Frontier Editor-in-Chief, June 11th, 2018
For regular updates on all things small press and Broken Frontier follow Andy Oliver on Twitter here.
Catch up on all our ELCAF Fortnight articles to date here. ELCAF runs from June 22nd-24th. Full details on the ELCAF site here and you can also follow the festival on Twitter here.