Erica J. Heflin and Amanda Rachels' Flesh of White miniseries shines light on the plight of albino men, women, and children in Tanzania. A bitter struggle barely seen or heard in mainstream media is turned into an accessible comic rich in magic and folklore.
The first issue of this four-part run introduces us to Rehema, her husband Idi and her baby Kwasi – a young boy born with albinism. After Kwasi is seen at a crowded mar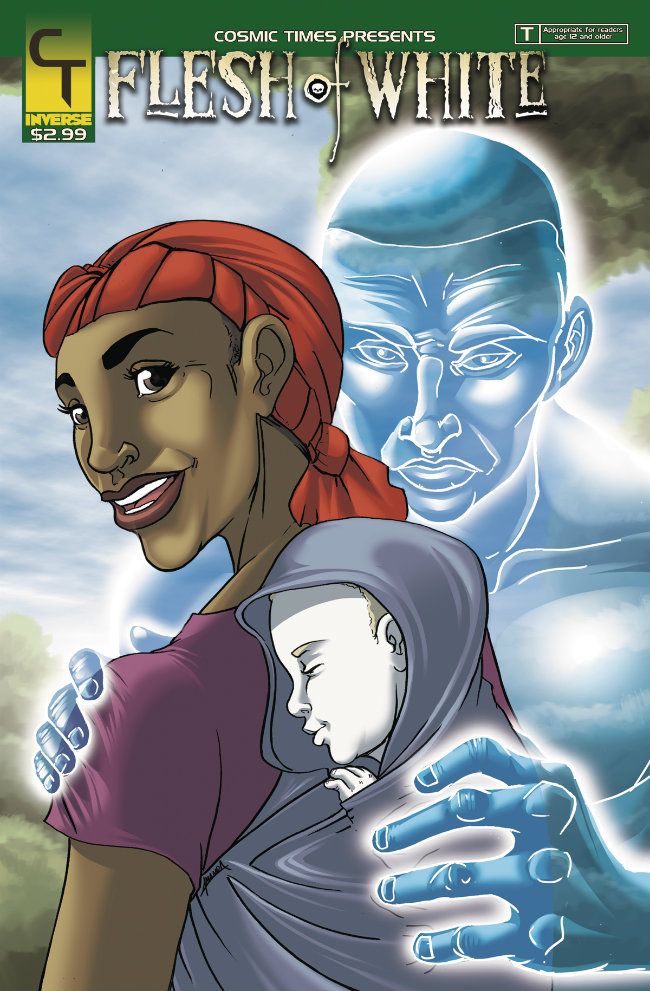 ketplace, his pale skin makes him the target for 'harvesters' hoping to sell his limbs to a witch doctor who believes his flesh holds potent magic.
This is a series that hopes to use the universal medium of comics to tell a story often lost in the whirlwind news cycle of international media. It is a story of a shocking and brutal crime of persecution, a fictional tale inspired by real life horror events happening in certain areas of East Africa, where albino children are seen by some as more ghost than human. It is also a story of understanding, love and healing fighting to overcome division and fear.
But most of all, it is a story about a mother who would sacrifice anything to protect her child. Kwasi may be the focus of men's greed and witch doctors' superstition, but it is his mother Rehema who is our hero.
At twenty pages, this issue turns up the pace quickly, swiftly bringing us to the moment of horror and violence that triggers Rehema's journey to find real safety and strength.
Everything is clearly wrought in Rachels' artwork, which excels in the painting of people's faces and emotions. The artistic approach is fairly simple – nowhere do we really veer into the dark stylish art frequent in many horror comics. Instead Rachel lays the events (mystical or visceral) in front of us in a straightforward way.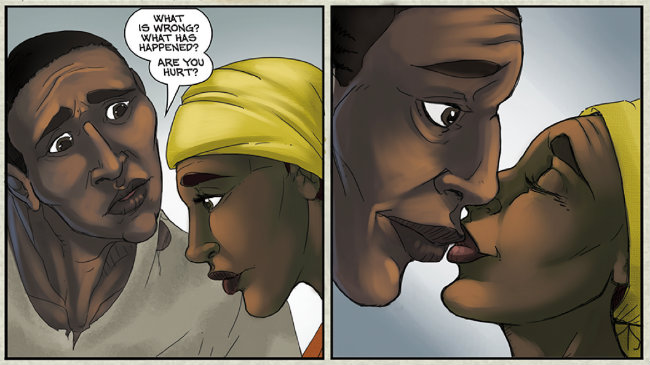 Not only does this make the book more accessible for a wider (or not comics-literate) audience, but it actually makes the scenes more shocking. Nothing is veiled, and nor is it embellished: this is the truth, Heflin and Rachels say to us. This is really happening. And there is nowhere to look away.
Flesh of White is also a story with magic, with ghosts and spirits and mystical powers (both good and evil). It's a fantasy tale, and it certainly fits within the supernatural horror genre.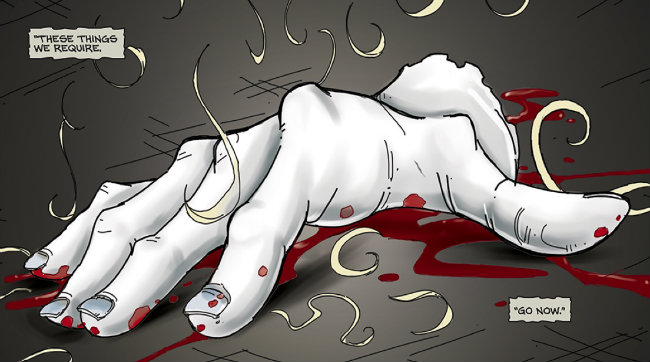 Except it's not actually anything supernatural that is horrifying, here. It's the humans, and the brutality that humanity is capable of; it's the villager who, when running out of food, speculates about selling his neighbour's child to feed his own family; it's the stone-cold face of a machete-wielding harvester, who can call an infant child an 'ingredient'.
Erica J. Heflin (W), Amanda Rachels (A) • Cosmic Times/Inverse Press , $2.99