Press Release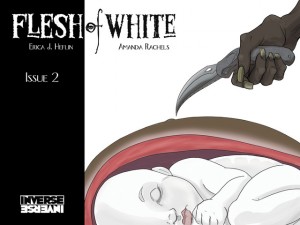 In January, 2013, independent creators, writer Erica J. Heflin (Grayhaven Comics' The Gathering, Chronographer, Of Wolf & Woman,Mother & Son; Alterna Comics' The Black Hand) and artist Amanda Rachels (Arcana Studios' The Book; Inverse Press' Clown Town), completed a highly successful crowdsourcing campaign for their comic, Flesh of White #1 (of a 4-issue series), more than doubling their initial funding goal and quickly fulfilling all rewards upon the campaign's conclusion.  Now, as issue 2 of Flesh of White nears readiness for publication, the fundraising campaign for this latest volume is now live on Kickstarter.com!
The Kickstarter page for Flesh of White #2 can be found at:  http://kck.st/Zq5x0n
In Flesh of White #1, young mother, Rehema, and her son with albinism, Kwasi, fled their small and tight-knit community after word of Kwasi's white flesh filtered back to a local Witch Doctor, who unleashed his Harvester to collect it.  Rehema protected Kwasi from the carnage that ensued, but not before they suffered a devastating loss…
NOW, in Flesh of White #2, Rehema and baby Kwasi find refuge in a village hidden in the depths of Tanzania and wholly populated by men and women with albinism, a people dedicated to protect one another from the outsiders who would hunt them for their pigmentless flesh.  As we rejoin their little family, it is but a matter of days before the Witch Doctor catches their scent, and they must prepare to fight back.
The Kickstarter fundraising campaign for Flesh of White #2 runs through 8:00 p.m. on Sunday, June 2, 2013, and Erica and Amanda are pleased to offer a treasure trove of rewards including specialty items, unique editions of the book, and incredible opportunities, including:
·         Kickstarter-Exclusive Cover Editions of Flesh of White #2
·         Trading Cards featuring Key Characters
·         A Script Book featuring Line Art with Accompanying Script on Facing Pages
·         Oversized (9.25" x 14") "Treasury Editions" of Flesh of White #2
·         Blank, SKETCH Cover Edition of Flesh of White #2, featuring an Original Sketch by Series Artist, Amanda Rachels
·         Original, Penciled Pages from Flesh of White #2 on Full-Size Art Board
·         11" x 17" Color Sketch Commissions by Amanda
Kickstarter allows creators to take funding – AND the projects thus created – directly to the fans!  It's as simple as signing up, choosing the reward(s) most appealing to you, and setting up secure payment through Amazon.com (EASY – especially if you already have an Amazon account).