Greg Pak, Trevor Hairsine, and guest artist Clayton Crain deliver yet more inspired re-imagining as the saga of the six-thousand-year-old Eternal Warrior continues.
For thousands of years, ancient Mesopotamian  warlord Gilad Anni-Padda has served as the Eternal Warrior, guardian of the Earth and revered "fist and steel" of the Geomancers. Now living in seclusion on the African plains, Gilad seems to have put his warrior days behind him. But predictably, a six-thousand-year commitment to defending the Earth brings with it a sizable amount of baggage, and this new ongoing delves deep into that facet of the character. When our story begins, Gilad's dangerously violent daughter Xaran, pursued by a band of marauding horsemen looking to make good on an ancient blood debt, has arrived to seek the help of her father. Ordinarily, a warrior of Gilad's stature would stop at nothing to protect his daughter, but things aren't so simple, with Xaran's untamed bloodlust having claimed the life of her brother Mitu millennia prior.
The art here is noticeably more diverse than in the first issue, with Clayton Crain taking over duties from series regular Trevor Hairsine for some scenes. Hairsine's art falls along much the same lines as it did in issue one, favoring traditional, clean line work with an added rough grittiness in the more violent scenes. Clayton Crain's art, more tightly constructed than Hairsine's and almost airbrushed-looking in some places, illustrates the flashback sections of the story, giving us a glimpse at Gilad's more recent past in the American Midwest of the late nineteenth century.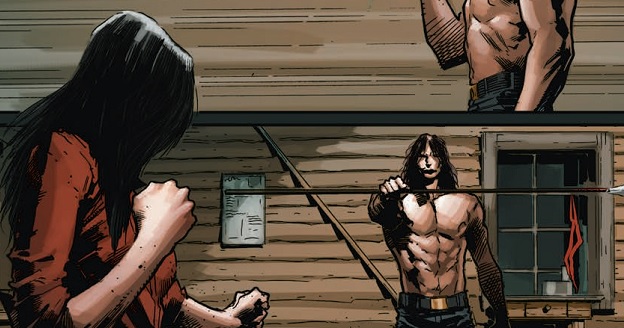 Gilad has been seen here and there in the Valiant universe since the company's relaunch, of course, but Greg Pak's new series represents his first solo outing as of yet. While the characterization of Gilad seems somewhat at odds with his portrayal in Archer & Armstrong, that's a minor problem, and the title is more than enjoyable enough on its own. And while Eternal Warrior is as unmistakably an action comic as its predecessor of the 1990s, the added family dynamic gives it an added depth it may have otherwise lacked, keeping Gilad's situation in a uniquely down-to-earth context. In big picture terms, in fact, Greg Pak's reinvention of the character turns out to be one of the better things to come out of the new Valiant.
Greg Pak (W), Trevor Hairsine, Clayton Crain (A) • Valiant Entertainment, $3.99