We've always been big fans of the all-ages work of those fraternal fictioneers the Etherington Brothers here at Broken Frontier. If there's such a thing as a national treasure in the British comics industry it's Robin and Lorenzo – not only are they the gents behind the madcap mirth of Monkey Nuts, Baggage, and Long Gone Don and Von Doogan for The Phoenix, but they're also creators who take proactive and positive strides to bring the medium of comics directly to the children that make up their audience.
On August 1st the first volume of Monkey Nuts will be re-released in softcover from the DFC Library, a volume described here at BF thusly "Every page is a thing of beauty, with art so detailed that each re-read is a new journey of discovery." If you've never experienced the frenetic fun of an Etherington Brothers comic strip before then this is a most affordable opportunity to pick up this wacky tale of Sid, an unemployed, tap-dancing monkey and Rivet, a robot vending machine, who team up as a crime-busting team under the guidance of police Chief Tuft, a talking coconut on the Isla Monstera in the Bermuda Triangle!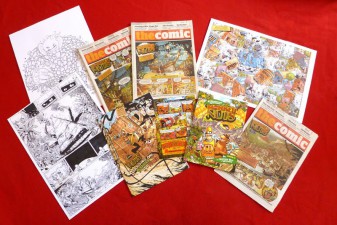 To celebrate this event, the brothers are auctioning a page of original Monkey Nuts artwork for the very first time along with a host of other Etherington-related goodies including unused cover art, a signed print and sundry Monkey Nuts rarities (see image above). The once-in-a-lifetime auction is here on eBay until August 1st and open to bids from across the globe. There's more details on their blog here.
And if that isn't your cup of Earl Grey then why not enjoy some video footage of the chaps doing their bit to promote comics to the next generation of readers, below!