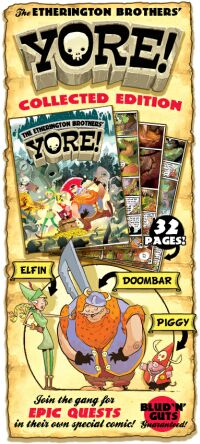 Those mischievous masters of manic mirth the Etherington Brothers have announced on their blog that their previously uncollected 2011 series YORE! (from the pages of the late, lamented The Dandy) will be offered in November as a free supplement in the Dennis the Menace and Gnasher Megazine #6 with a brand new cover by Lorenzo Etherington.
Broken Frontier has covered the Etherington Brothers' work in the past with very favourable reviews of their Monkey Nuts collection here ("Every page is a thing of beauty, with art so detailed that each re-read is a new journey of discovery"), and Baggage here ("This is the closest you'll ever come to seeing animation on the printed page"), both from the DFC Library.
The brothers describe the strip featuring the fantasy style adventures of Elfin, Doombar and Piggy as "filled with swords, sorcery, cartoon violence, daft jokes, bad magic and plenty of QUESTING!" For newbies this compilation represents a great opportunity to get a taste of the brothers' work for minimal outlay and for Etherington aficionados it represents a rare chance to pick up one of the hitherto uncollected gems from their back catalogue in one handy package… but only for a month!
Dennis the Menace and Gnasher Megazine #6 will be out in newsagents on November 6th and available for one month thereafter.