Alongside the multi-talented likes of Gary Northfield, Jamie Smart and Sarah McIntyre, the Etherington Brothers, Robin and Lorenzo, are a fraternal partnership at the very forefront of the resurgence of children's comics in the UK. I've reviewed their work a number of times here at Broken Frontier describing bizarre buddy comedy Monkey Nuts – Sid, an unemployed, tap-dancing monkey teams up with Rivet, a robot vending machine to form a crimefighting business – as containing "art so detailed that each re-read is a new journey of discovery." And of their graphic novel for kids Baggage I ventured the opinion that "this is the closest you'll ever come to seeing animation on the printed page."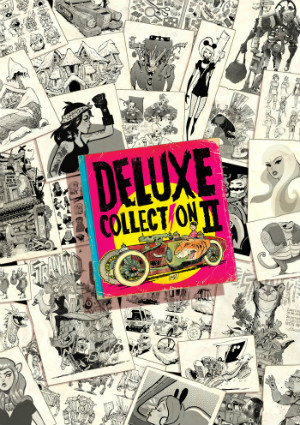 With two recent collections of material from British weekly comic The Phoenix on sale at the moment – in the form of Long Gone Don Book 1 and Von Doogan and the Curse of the Golden Monkey – the second half of 2014 is proving to be an exciting one indeed for fans of the duo. But there's more good news on the horizon if you're an Etherington aficionado because Lorenzo Etherington has just announced the launch of a Kickstarter to fund a brand new 600-page artbook! Deluxe Collection II will feature chapters on character design, pose and gesture sheets, monsters, robots, concept vehicles, environment design, world building and unpublished comics. If you were lucky enough, as I was, to obtain the first Deluxe Collection a few years back you'll know what a treat this trip into Lorenzo's fertile imagination is going to be.
Pledges start at just £25 for a physical copy of this mammoth offering of thousands of concepts, designs and illustrations. If you're interested in backing the project the Kickstarter campaign can be found here. There's also more information on The Etherington Brothers blog here.