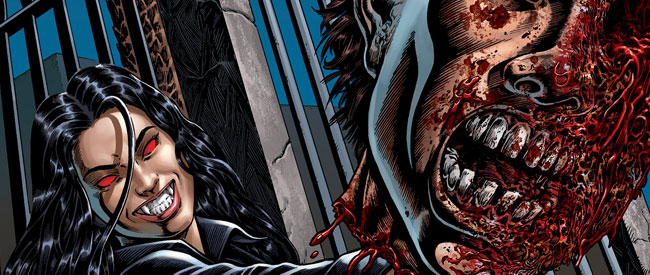 With the summer release of World War Z's movie adaptation looming over his head, Max Brooks adds another zombie story to his catalogue, yet this time with a nod to another classic horror genre.  
Extinction Parade is a fun, albeit cheesy, new story from Max Brooks, the creator of World War Z.  It's no secret that zombies are the new black, and with Parade Brooks asks one of life's most difficult questions, "how would vampires fair in a world overrun by a less sophisticated mob of undead?"
Considering the source material and focus of Parade, Brooks could have quickly fallen into trite territory, and despite some heavy-handed "observations" about humanity he tends to lean on the side of fun instead of eye-rolling.  For every drab statement about how society cages humanity like mindless animals, Brooks counters by poking fun at Hollywood's romantic love-affair with vampires in a definite commentary on how the predators have been tamed and housebroken.  The ideas raised about how vampires would behave in a world of slow, starved, unthinking zombie hordes actually reads quite well, moreover, as Brooks builds a world ruled by its own logic that makes sense and will hopefully add a layer of depth to the upcoming issues.
If Brooks is balancing on a thin line between fresh and stale, then artist Raulo Caceres is similarly teetering between quality and poor pencils.  Some of Caceres's static bodywork, for instance, tends to be misshapen or awkwardly structured, while the more violent and bloody action images pack a ton of excitement and gore onto the page.  Caceres does, however, pencil some great images that work towards balancing out some of the stranger looking examples.
The earlier mentioned sequence that is a direct poke at Hollywood's portrayals of vampires definitely hits the funny bone because of Caceres' art, while later in the book a vampire hunt through a humid jungle channels the fear of the human prey and the thrill of their predators.  As Parade continues through its schedule, it will be interesting to see which quality of Caceres' work will carry through.
While not breaking massively new ground, Extinction Parade is a fun summer book that aims to be the companion of any fan who visits the theater to see the spectacle of World War Z.  Brooks cleverly works in the relationship between zombies and vampires in a way that feels fresh, which considering the worn-out nature of both undead groups is a solid accomplishment.  Now that the zombie-vampire relationship is established, it is time to see how humanity's survivors fair in a world overflowing with danger.
Max Brooks (W), Raulo Caceres (A), Avatar Press, $3.99, June 19, 2013.