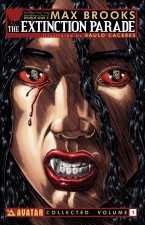 Press Release
New York Times Bestselling Author of World War Z and The Zombie Survival Guide Max Brooks, along-side artist Raulo Caceres (Crossed), create a violently original graphic novel horror series and a new subgenre of fiction: zombies vs. vampires.
In a world where the zombie plague has put the human race on the endangered species list, another predatory undead species realizes that to stand by idly means the end of their food supply.  Vastly outnumbered by the zombie hordes, vampires descend into all-out subdead war, with humanity caught in the crossfire.  This series further examines Brooks' fascination with the lethal races of the undead and brings his unique voice to comics at a time when horror fiction is at an all-time high in popularity.
Extinction Parade collects comics issues #1 – 5, as well as a massive undead zombies vs. vampires cover gallery!
Extinction Parade trade paperback releases soon, pre-order it now from your favorite retailer!
Extinction Parade, a softcover graphic novel with color interiors, 6.5″ x 9.5″, 160 pages.
– ISBN 978-1-59291-234-6
– $19.99 (US)