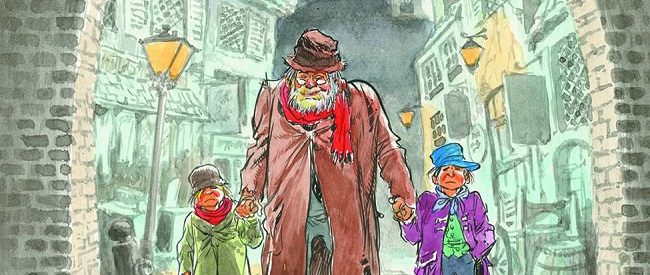 Comics legend Will Eisner's insightful treatment of Dickensian tropes sheds light on dark issues of prejudice and bigotry.
Dark Horse Comics presents a new printing of Will Eisner's graphic novel Fagin the Jew, originally published in 2003. Here the legendary writer-artist weaves a tale of a complex character, eschewing traditional black-and-white morality and one-dimensional characterization in favor of honesty and openness.
At the heart of Charles Dickens' novel Oliver Twist is the theme of poverty. As the protagonist gradually moves out of destitution and closer to a life of relative prosperity, he encounters a motley cast of characters, and not least among this group is Fagin, the villainous leader of a group of thieves with whom Oliver becomes entangled.
Here, the story is merely of a journey from ordinary poverty to criminal poverty. Moses Fagin begins his life in the slums of London as the child of poor Ashkenazic Jewish immigrants. Beginning his trade as a street thief at a young age, Fagin finds himself caught in one debacle after another, shaping him, bit by bit, into the character he will become years later.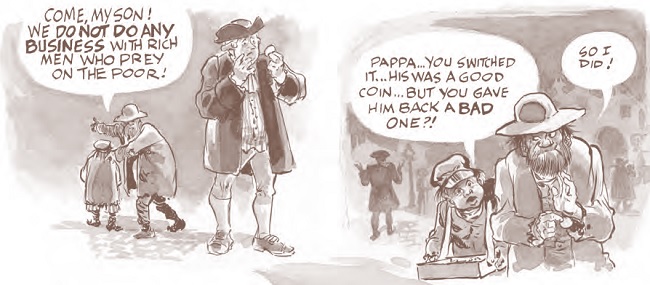 For Fagin himself, a character in the original work who is referred to by his ethnicity more often than by his name, this book is an opportunity at redemption. While not quite an apologia for a life of crime, Fagin's autobiography allows a flesh-and-blood human being to emerge from behind the veneer of the simple thief, an unfortunate result of Victorian-era prejudices. Reflecting his changing views on ethnic stereotypes like Ebony, the African-American character featured in many of his strips for The Spirit, Eisner enables the reader to get beyond the simplistic, at times grotesque caricature that comprises the character of Fagin in Dickens's novel.
Not much can be said about the strengths of Eisner's work that hasn't already been said. His artwork here is characteristically brilliant, the characters set in washed-out greytones, the settings masterfully built in a style that is at once detailed and minimalist. And Eisner's talent never stopped at the visuals. When it comes to pacing, he was capable of moving a plot along more in five pages than many writers can in twenty, though each beat of the story seems perfectly fleshed-out. Likewise, the dialogue of Fagin the Jew reads with an Old-World feel without ever coming across as forced or wooden.
The narrative is good-natured, if not quite upbeat. Though understandably weighed down by its at times heavy subject matter, the book still manages to feel lighthearted in a way Eisner's fans will find familiar. All in all, this is a graphic novel that is, in perhaps a more subtle way, as much a work of social criticism as the work on which it was based, and it is very, very good.
Will Eisner (W, A) • Dark Horse Comics, $19.99, August 14, 2013.