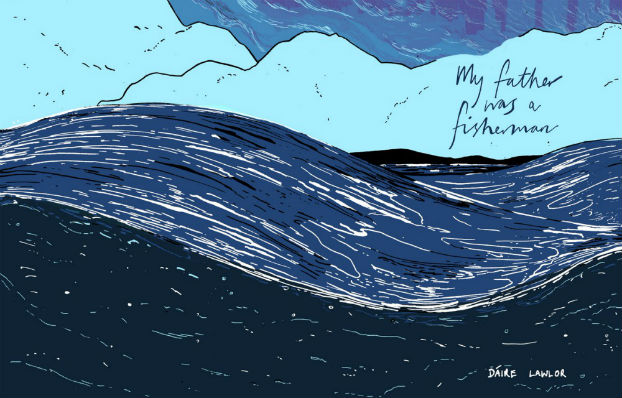 In My Father Was a Fisherman Dáire Lawlor presents a multi-faceted tale that can read on a number of different levels. On the surface it's a claustrophobic and tense thriller playing with elements of Scottish folklore; on another it's about identity, our roots and how sometimes we don't really know even those we believe we are closest to. It's also a story that can be interpreted as purer social commentary; one with a setting and supernatural elements that are narrative trappings on a fable reflecting themes of patriarchy and oppression.
Narrated from the perspective of protagonist Una, who we observe from girlhood to young adulthood, it recounts the isolated life she leads with her father – the fisherman of the title – and her mother, living in a remote cottage by the coast. Her father tells her of how many years ago he saved her mother from the sea and their subsequent happy marriage. Una, though, is desperate to leave the family home, move on and see more of the world but inexplicably finds herself unable to go through with it. As time progresses secrets are revealed, eerier elements come to the fore and dramatic revelations about the truths of the past change the trio's lives forever…
Those familiar with elements of folk tradition will find this a suitably atmospheric take on Celtic mythology but My Father Was a Fisherman is also a self-published graphic novella touching on deeper themes of abuse and repression. The location and the timeframe may take in the historical, and the story may ostensibly be presented as a creeping dark fantasy, but its subject matter has a far deeper relevance.
An 85-page tale is undoubtedly an ambitious undertaking for early comics work but Lawlor's sequential storytelling shows great promise. Her pacing is especially notable, slowly building up a growing sense of unease as apparent domestic bliss begins to slowly unravel into something far more sinister. Varying expanses of black add a sense of foreboding to her pages with sections broken up by entirely dark reflective sequences that are stripped back to nothing but prose to accentuate Una's emotional state at key moments in the story. Shifting perspectives and overlapping panels create mood and add a sense of place and terrifying majesty to the untamed coastal environment.
That's not to say there aren't moments of naivety in the storytelling, as is to be expected when an artist is taking those first steps in learning their craft. The hand lettering, in particular, is sometimes awkwardly placed in tight text boxes and dialogue needs reworking on occasion so that it feels more naturalistic in flow and less like descriptive exposition for motivations and actions. But there's also a clear understanding on show of how to utilise the structure of the page to the greatest and most moving dramatic effect. There are rawer edges here but Dáire Lawlor's My Father Was a Fisherman is a most impressive first long-form sequential art offering. A creator to keep a close eye on in 2019…
For more on the work of Dáire Lawlor visit her site here and follow her on Twitter here. You can order My Father Was a Fisherman online here. 
For regular updates on all things small press follow Andy Oliver on Twitter here.
Review by Andy Oliver.