They don't come more "eagerly anticipated" than this! The second book of My Favorite Thing is Monsters by Emil Ferris will be published in April 2024 by Fantagraphics. Back in 2018 our Tom Murphy said of  the Broken Frontier Award-winning first volume "What really makes Monsters soar – even during some of its more discursive detours – is the tour de force achievement of Emil Ferris's artwork." April cannot come quickly enough.
Fantagraphics Announces Highly Anticipated Conclusion: My Favorite Thing Is Monsters Book Two by Emil Ferris
Acclaimed cartoonist Emil Ferris and Fantagraphics are set to captivate readers once again with the long-awaited release of My Favorite Thing Is Monsters Book Two in April 2024! Following the extraordinary success of the first installment, the eagerly anticipated continuation of the story is an artistic tour de force that will leave fans in awe.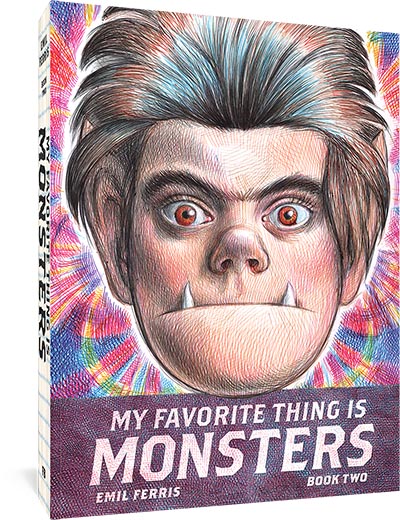 Building upon the unique and spellbinding narrative that riveted readers worldwide, My Favorite Thing Is Monsters Book Two delves deeper into the mesmerizing world of Karen Reyes, a tenacious young girl navigating the complexities of her own existence amidst the backdrop of 1960s Chicago. Karen seeks to solve the murder of her beloved and enigmatic upstairs neighbor, Anka Silverberg, a holocaust survivor, while an array of interconnected stories of those around her unfolds. Meanwhile, she grieves the death of her mother, comes to terms with her own sexual identity, and suspects her brother Deez of hiding dark secrets. Ferris's masterful storytelling weaves together themes of love, loss, Queer identity, and the power of imagination, making for a truly unforgettable reading experience.
Fantagraphics is excited to bring My Favorite Thing Is Monsters Book Two to readers worldwide. Fantagraphics publisher Gary Groth stated, "I am as thrilled today with the completion of My Favorite Thing is Monsters Book Two as I was in 2015 when I read this uniquely executed and groundbreaking work for the first time. Emil has spent years honing this concluding volume to her exacting standards and those of you who have been excitedly anticipating it will not be disappointed. The full range of Emil's skills that made the first volume such an aesthetic triumph —the dense, multi-layered story, the dazzling draftsmanship, the seamless combination of text and drawings— is on full display on every page of this book."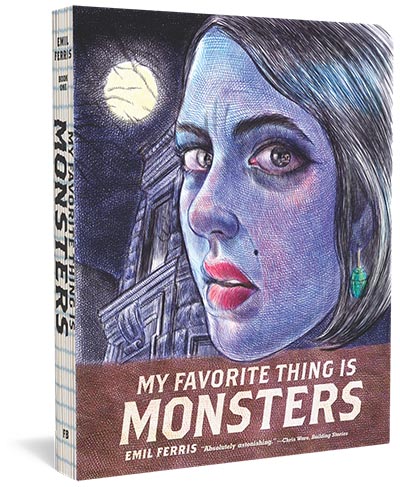 My Favorite Thing Is Monsters Book Two will be available in both print and digital formats at all leading bookstores and online retailers starting April 2024. Fans of the first book, as well as newcomers to the series, are encouraged to pre-order their copies to ensure they do not miss out on this extraordinary reading experience.
About Emil Ferris:
Emil Ferris is a critically acclaimed author and artist known for her unique approach to storytelling and stunning visual style. Her debut graphic novel, My Favorite Thing Is Monsters Book One, received widespread acclaim and numerous awards, establishing Ferris as a powerful voice in the world of sequential art. Her work has been praised for its intricate storytelling, rich character development, and exceptional artistic vision.
For more information about My Favorite Thing is Monsters, please visit Fantagraphics.com/EmilFerris.