Two events in London and Brighton this weekend if you're looking for small press-related events. Info on the Feminist Library Winter Fayre and the Cartoon County Comics Winter Fair below. Do make sure to send your press releases our way if you want a BF shout-out for your events. We can't post if you don't send us the deets, chums!
The Feminist Library Winter Fayre 2022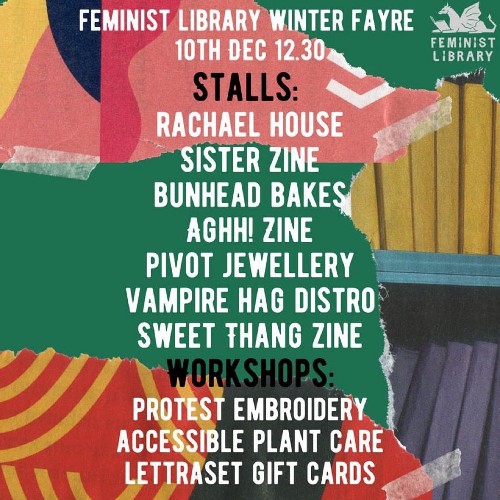 Saturday 10th December @ 12.30pm – 5.30pm
Come and join us for a glass of something mulled and browse the Feminist Library bookshop's books and zines, including original copies of Spare Rib for sale, plus our brand new limited edition Feminist Library football scarves and 2023 calendars from our Spanish Bookclub
We will also have some of our fantastic friends selling zines, jewellery, prints and other treasures as well as festive food and drinks, patch making and plant care workshops, a tour of the collection and more!
We also have a selection of workshops taking place:
Patch making workshop with Rosanna McNamara
Accessible plant care workshop
Lettraset gift card making workshop with Minna
Tour of the collection
Or simply come and browse the stalls of @rachaellhouse @bunheadbakes@madebypivot @vampire_hag@aghhzine @sister_magazine@rosanna.mcnamara !
For more info and to book your spot for the workshops visit our Eventbrite page.
Cartoon County Comics Winter Fair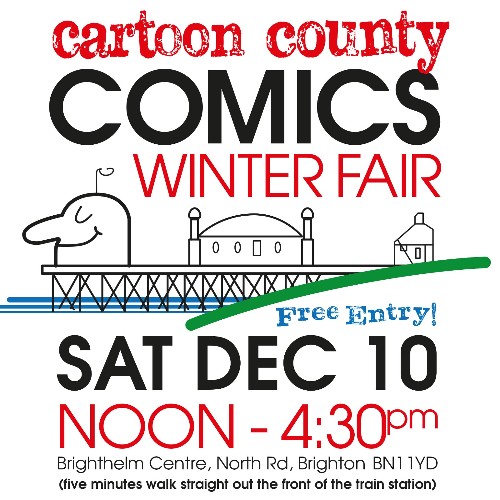 Free entry and easy access to our first small scale comic and zine fair. Pick up some fab new comics and cool Christmas presents and meet some of the finest comic makers in Sussex.
Individual tables featuring some of Cartoon County's finest local creators:
Ben Naylor
Corinne Pearlman
Dan Locke
Danny Noble
Hannah Berry
Hannah Eaton
Michi Mathias
Myfanwy Tristram
Ottilie Hainsworth
Zara Slattery
We'll also run an old school Community Table on the day