Coming this August in the UK and September in the US, The Flood That Did Come is the debut graphic novel of Patrick Wray. Another cool find by the Avery Hill Publishing team, we have a video trailer and preview pages from the book below today at Broken Frontier.
FIRST LOOK:
The Flood That Did Come by Patrick Wray
***
Published by Avery Hill Publishing
August (UK) / September (USA)
64 pages, perfect bound
£8.99 / $11.95
*
In the year 2036 the whole of Kingsby county has been flooded after several weeks of torrential rain. Only a few villages have escaped the flood. One of these is the village of Pennyworth, where Tom and Jenny live.
When the inhabitants of nearby Brook Falls arrive and attempt to lay claim to Pennyworth, a struggle ensues that places the residents of each village against each other in a battle of wills that threatens to change all their lives forever. Can Tom, Jenny and their friends persuade the new arrivals that a conflict can be avoided before all is swept away by The Flood That Did Come?
Speaking to our most mundane past grumbles and most terrifying future anxieties, The Flood That Did Come is a cosy catastrophe told through a unique lens. Using vintage woodblock stamps throughout, Wray's debut full-length graphic novel evokes the feeling of 20th century children's classics like Ladybird Books and Fun With Dick and Jane.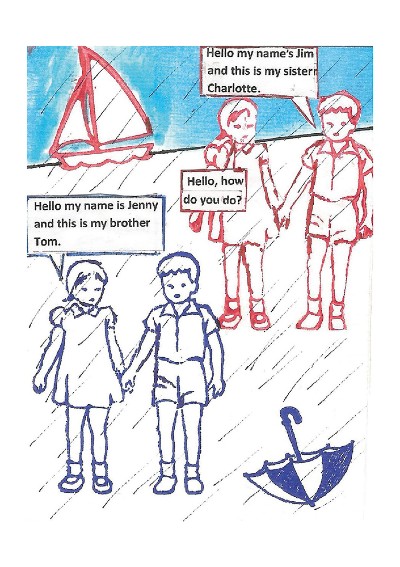 A story of struggle, childhood friendship and archaic bureaucracy in a little England drowning in its own future past… The Flood That Did Come  is the debut graphic novel from artist, writer and musician Patrick Wray.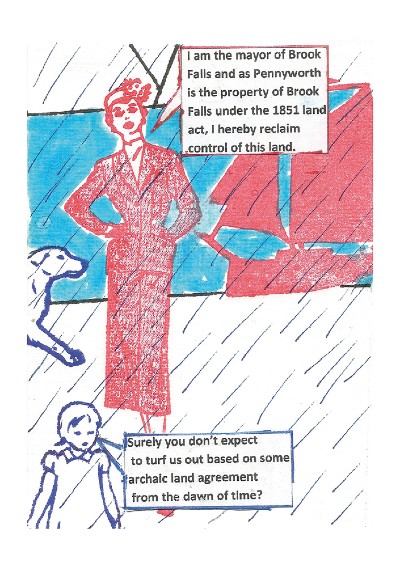 ***
Patrick Wray was born in the North of England. He studied at the famous Dartington College of Art many moons ago and the not so famous Keighley Arts Factory before that. He has made a lot of art and quite a bit of music over the years in an ongoing quest to waste his life in a poetic fashion. He has exhibited widely including a solo exhibition at Foyles Gallery, Charing Cross Road. His work has been featured in publications such as The Fader, Geeked Magazine and the Times Educational Supplement.