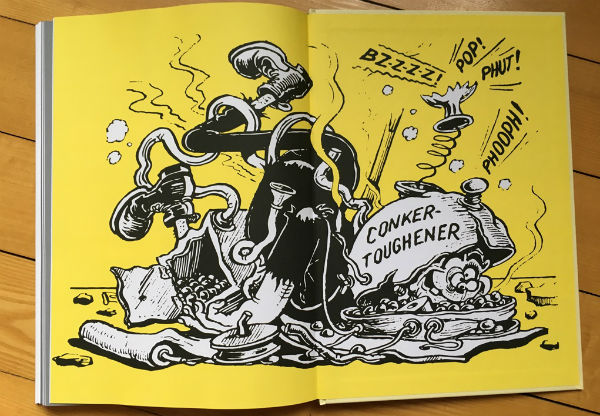 Humour titles traditionally tended to be the entry point into the wonderful world of comics for generations of British fans. We may have moved on to 2000 AD or Battle, or in some cases to the American imports, but pretty much all of us started off with the seemingly endless parade of laugh-makers in titles like Whizzer & Chips or The Beano. And yet, somehow, those one or two-page gag strips that millions of British kids read weekly over the decades have never really seemed to get as much respect or attract as much comment as the various adventure, war and sci-fi comics. It's as though the fact that the subject matter was not meant to be serious means that the work put into creating it doesn't rate being taken seriously… which is a shame, because while a sizeable chunk of that material is, admittedly, forgettable, there are works of genius in some of those yellowed newsprint pages, and none more so than in the bizarre but brilliant strips created by the ever-amazing master of the grotesque, Ken Reid.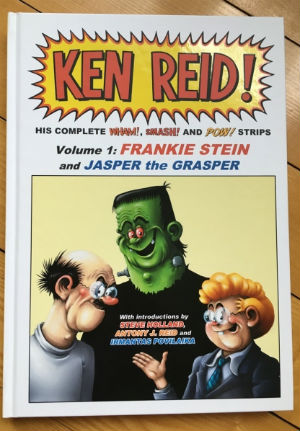 Ken Reid: His Complete Wham!, Smash! and Pow! Strips Volume 1 (which is without a doubt the longest title I've typed out in a while) is a series which, to quote a certain famous advertising campaign, sets out to do exactly what it says on the tin: reprint the entirety of Reid's work in the Odhams Power Comics of the late 1960s. It's only logical that they've started with possibly Reid's most famous creation, the hapless, good-natured gargoyle Frankie Stein, from Wham!. Frankie, of course, is a character who ended up outlasting both Odhams Press and Reid himself, being resurrected by IPC in the 1970s with the likes of the unquestionably talented Robert Nixon chronicling his misadventures, but amusing though some of those later strips were, they can't really hold a candle to Reid's original run.
Unlike the majority of the humour characters, Frankie is given both a proper origin and a fairly comprehensive background; he's created by the eccentric and unlikeable Professor Cuthbert Cube to provide a playmate and distraction for his son, Micky, so that Cube doesn't have to be constantly bothered by him, and of course the Professor's experiment goes wrong, resulting in not the golden-haired cherub he'd envisaged but a hulking, thick-headed monstrosity with an amiable nature but a talent for causing mayhem.  But, Reid being Reid,  it doesn't end there. Unlike the usual done-in-one gag strips, Frankie Stein is (to begin with, at least) a serial, one episode generally leading into another, so that Frankie's world is actually built upon over time. New information is revealed as we go along, like the fact that Frankie has the brain of a frog and the stomach of an ostrich (the latter meaning he can digest almost anything).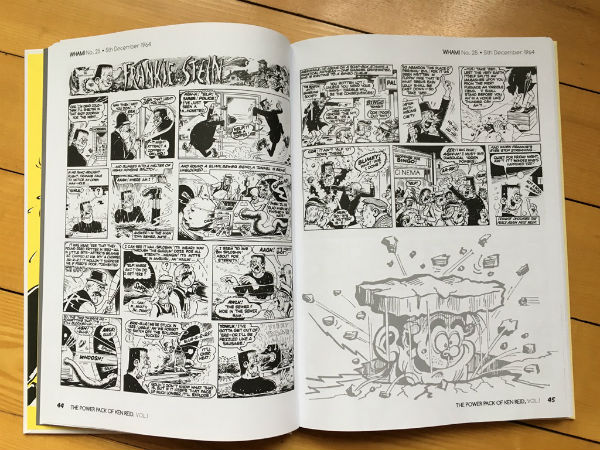 The serial format also means Reid can introduce other characters whose stories unfold over several episodes, like feline-fancying plumber Percy Potts. And underpinning everything is  that unmistakable combination of incredibly detailed,  fluid, gorgeously grotesque art, full of beautifully ugly characters with wonderfully expressive faces, and the surprisingly sophisticated scripting which is so characteristic of Reid's work. These are strips you have to actually read to get the most from, the words as important as the art, and despite the fact that he's writing for a juvenile audience, the jokes work for all age groups (I found myself laughing out loud at Cube's ambition to turn gorgonzola cheese into uranium).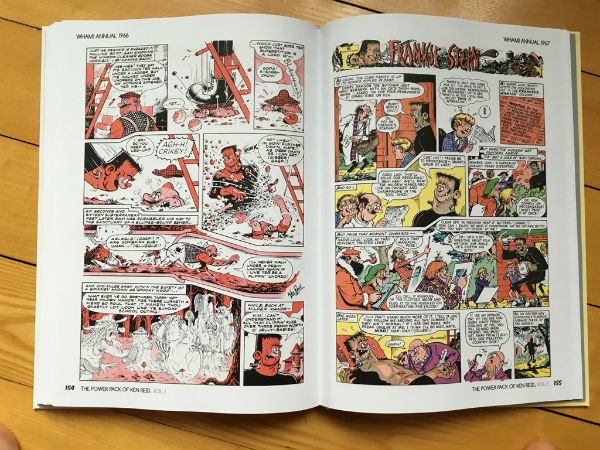 There's also a very definite sense of continuity even when the serial format is dropped, with little call-backs to elements of past strips which are curiously satisfying when you notice them. Some elements of the strip are dated, admittedly (the reader benefits from a grasp of pre-decimal currency, for a start), and it's very definitely set in the Britain of an era now long gone, full of grasping rent collectors and comedy foreigners, but it's as much a delight now as it was more than fifty years ago, and it probably still will be fifty years hence.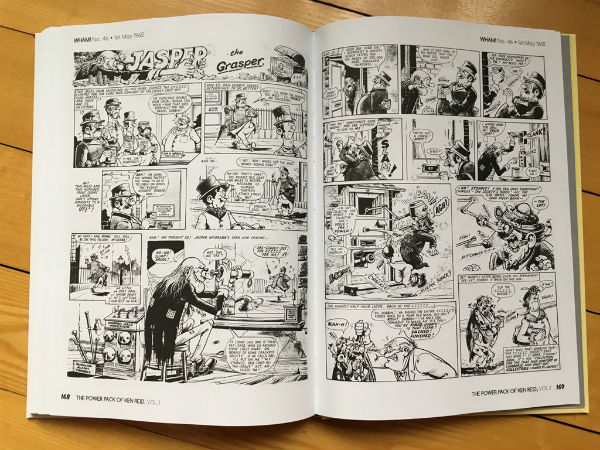 Of course, while Frankie's adventures take up the bulk of the book (almost 150 pages of it in all) he doesn't get it all to himself. He shares it with another of Reid's creations from Wham!, the lesser known but still entertaining  Jasper the Grasper,  Victorian miser Jasper McGrabb, whose story lasted for a mere six two-page instalments in 1965. Nowhere near as well-rounded a character as Frankie, it's perhaps unsurprising that Jasper didn't really catch on at the time (though like Frankie, he also got a second chance in the following decade under another artist's pen) but the strip still deserves its place here despite the lack of the comedy horror theme which characterises much of Reid's best work (including Frankie Stein, of course), not least because it's one of the very few humour strips which actually gets a very definite ending once its time is up.
To sum up, this book is around 160 pages of some of the best and funniest material to come out of British comics, and it is well worth treating yourself to. Don't be a Jasper; go and grasp a copy!
Ken Reid (W/A) • Irmantas Povilaika, £25.99
Available to order online here
Review by Tony Ingram