It will come as little surprise to any regular readers here at BF when we say that we're huge fans of both Rebellion's Treasury of British Comics reprints and their showcasing of classic characters. Last year the Scott Goodall/John Stokes Marney the Fox collection won the Best Collection of Classic Material category in our annual Broken Frontier Awards, with Charley's War being up for similar recognition this year. So we're delighted to hear about their plans to publish Funny Pages – a one-shot Free Comic Book Day anthology – presenting reprinted material starring the IPC/Fleetway humour characters. Check out the cover for an instant nostalgia hit.
You can enjoy more of our coverage of the range here at Broken Frontier. Below is the full Rebellion press release on what you can expect from Funny Pages…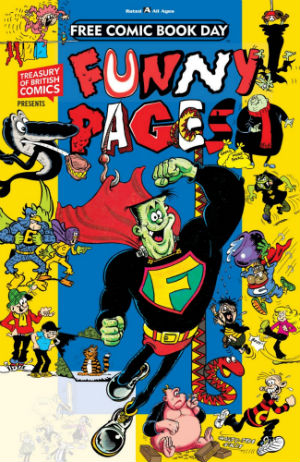 Rebellion is proud to announce that it's tapped into its funny bone for a new all-ages Free Comic Book Day title, which marks its eighth year as a Silver Sponsor of Free Comic Book Day!
The Treasury of British Comics Presents Funny Pages is a stack of silliness in a folio of frivolous foolishness for FCBD 2019! This bounty of belly-laughs for kids of all ages sees the return of some of the most fondly remembered comic characters in British history!
The 32-page US-format comic will be available only from participating comic book stores on Free Comic Book Day 4th May 2019.
Free Comic Book Day takes place on the first Saturday of May and is an international event to help bring new readers into independent comic book stores.
Infant delinquent Sweeney Toddler commits crimes from the crib! Just when you thought it was safe to parody Steven Spielberg shark films – along comes the terror from the depths, GUMS! Meanwhile, Martha's Monster Make-Up and Faceache strips are both a scream!
The egg-straordinary adventures of super-zeroes Birdman and Chicken are sure to get you clucking, and you can count on Deadley Hedley The Vampire Detective to be up to your neck in laughs when he joins a stake-out at a monster Christmas Party!
Not just that – but a loopy lagoon of laughs including Kid Kong, Grimly Feendish, Prambo, X-Ray Specs, Ivor Lott and Tony Broke, and Glugg!
This first ever Treasury of British Comics FCBD issue features reprint stories of well-loved classic series – an IDEAL FCBD title that will appeal to both kids and those adults who love these characters from their own childhoods!
Don't be a lazy bones – hit your LCS for Free Comic Book Day 2019 and find your funny bone!