The new series of Doctor Who has started, and much has been made in the media of the arrival of new companion Bill Potts (Pearl Mackie), who has been heavily promoted by the BBC. One aspect of this promotion, which has been latched onto by a number of outlets, is her supposed status as the Doctor's first gay sidekick; an assertion which one can only assume has been greeted with some annoyance by John Barrowman (yes, Captain Jack was an official companion back in 2005; his name was in the opening credits and everything).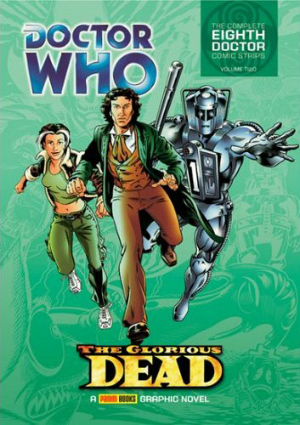 The fact is, however, that if we're being pedantic (perish the thought) and also eschewing the traditional but misguided notion that "only TV counts", neither Ms Potts nor the crusading Captain were actually the Doctor's first non-heterosexual assistants. That particular honour must go to one Isobel 'Izzy' Sinclair, companion to the Eighth Doctor (right with fellow Tardis traveller Kroton the Cyberman), who first appeared in the comic strip in Doctor Who Magazine #244 in October 1996.
And ground-breaking though she was in her way at the time, Izzy was just one of a host of comics companions who have enlivened the Doctor's travels over the last fifty-three years, many of them arguably rather more interesting than some of their televised counterparts. Let's take a look at a few…
The Doctor's first wholly original comics companions were introduced in his debut strip adventure, back in TV Comic #674 (1964) but John and Gillian Who, the irritatingly precocious grandchildren of Neville Main's near unrecognizable Doctor Who, were really more plot devices than characters, serving only to give the Doctor someone to explain things to during the course of his deeply odd adventures.
Of course, some might argue that the Doctor's TV companions served pretty much the same function at times, but still, John and Gillian were a poor substitute for 'real' companions from the TV show, and were hastily retired (or rather, packed off to university on the improbably named planet Zebadee) as soon as TV Comic got the rights to a proper character off the telly, Jamie McCrimmon in 1967.
TV Comic did briefly give us another couple of original characters over the next few years, but both Joan Brown and Miss Young were clearly just one-off stand-ins for TV companions the title didn't want to pay to use, namely Sarah Jane Smith and Leela respectively. It wasn't until 1980 that the Doctor got his first real comics-only companion of note… but when he did, she was something special!
John and Gillian continued into the Second Doctor's '60s comic run (left). Sharon in both the original UK Doctor Who Weekly and the US reprints (art by Dave Gibbons)
In 1979, Marvel UK had negotiated the rights to produce Doctor Who comics, but they either weren't able to or didn't want to license the then incumbent companion, Romana. Instead, a few months later writer Pat Mills and artist Dave Gibbons gave us a new kind of companion in gobby, streetwise schoolgirl Sharon Davies (her full name, curiously, was never mentioned in the strip but was revealed in 1989 in an issue of Death's Head) and she was a revelation!
Quite aside from being that rarest of things , a kid sidekick who was actually believable to kids, she was also quite conspicuously not white – a rarity for a Doctor Who character in any medium at the time. In fact, it would be another twenty-seven years before the Doctor finally got his first black companion on TV. Just as with Izzy Sinclair in the Nineties, comics showed themselves far more willing to embrace a bit of diversity than the TV executives of the day.
Sir Justin in action (left) and Gus Goodman (right)
Sharon's schoolgirl status was evidently judged a bit of a problem by someone though (possibly because the Doctor had taken her out of school during term time) so she was artificially aged to adulthood soon afterwards and then married off to an artist on the planet Unicepter IV. Presumably, her parents back in Blackcastle are still wondering what happened to her…
By 1982, Peter Davison's mild-mannered Fifth Doctor had replaced the Fourth both on TV and in the strip but, as usual, there was no sign of his screen sidekicks. Instead, Steve Parkhouse's epic adventure 'The Tides of Time' gave him the first of a couple of temporary companions in medieval knight Sir Justin, depicted with a kind of charmingly bewildered expression most of the time by Dave Gibbons.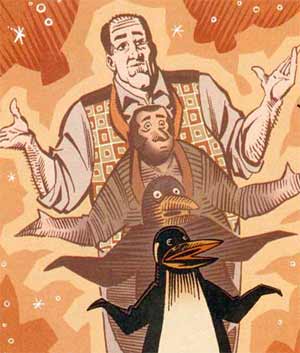 The opposite of Justin in every way, though, was his immediate successor, ill-fated fighter pilot Gus Goodman, who became the Doctor's first… albeit short-lived… American companion in July 1983. This was more than six months before the arrival of Peri Brown, touted as the first American companion on TV in 1984. Yep, once again, comics got there first!
And while it's true that for once, the TV guys stole a march by giving us the Doctor's first confirmed non-human companions in the Seventies and Eighties, it's also undeniable that Romana, Adric, Nyssa and Turlough all looked suspiciously normal; it wasn't until 1984 that we first saw a genuinely alien-looking companion when the Doctor Who Magazine strip gave us Frobisher (right) – a shape-shifting extra-terrestrial private eye trapped in the form of a penguin! In fact, thirty-three years later, the BBC have still yet to give us a TV companion of the family Spheniscidae (penguins to you), which is surely an injustice in dire need of correction at the earliest opportunity!
The departure of Doctor Who from our TV screens in 1989 did not curtail the Time Lord's strip adventures, but it did give the writers an excuse (as though they needed one) to come up with ever more inventive comic strip companions over the next decade and a half, including the aforementioned Izzy Sinclair, amphibious humanoid alien Destrii (who for a time swapped bodies with Izzy), 1930s adventuress Fey Truscott-Sade and the scheming alien criminal Majenta Pryce.
Destrii, Izzy Sinclair with Fey Truscott-Sade and Kroton
The Doctor eventually even got his first Cyberman companion in the form of fan-favourite Kroton the Cyberman in 1999, fourteen years before the TV show gave us Handles the Cyber-head in Matt Smith's last story (he'd already had the Ice Warrior Ssard as a companion in the short-lived Radio Times strip in 1996 by Garry Russell and Lee Sullivan, below right).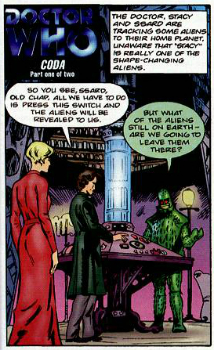 And while the arrival of the relaunched TV series called a temporary halt to these imaginative excesses, as strips based on the show took the safer route of just licensing the likes of Rose Tyler and her televisual successors, in recent years the expansion of the franchise has resulted in the creation of a seemingly limitless parade of new comics companions.
The current Doctor in DWM has travelled with Jess Collins – created to bridge the gap between the departure of Clara on screen in 2015 and the arrival of Bill this year – while his past incarnations in the various titles in Titan Comics' Doctor Who line have been accompanied by library assistant Alice Obifune and chameleonic rock star John Jones (the Eleventh Doctor), Gabriella Gonzalez and Cindy Wu (the Tenth), and artist (and, as it turned out, living painting) Josephine Day with the Eighth.
There have been others too, over the years: Stacey, Hattie, Olla the Heat Vampire (actually, let's forget that last one, shall we? Everyone else has, thankfully) and it seems likely there'll be more to come. Wherever the Doctor goes, he must always have a companion, it seems, and so long as licensing restrictions or breaks in TV production continue to be an issue, the comics will find a way of providing them, often coming up with characters the television series wouldn't dare try.
Companions Jess Collins, Cindy Wu and Josephine Day from the Titan series
Just more proof, if any were needed, that if you really want to enter a realm of limitless imagination, your TV screen is all very well, but nothing can really take you further than comics. Not even a TARDIS!
For more on Titan's Doctor Who comics visit their site here and follow them on Twitter here. You can find out more about Doctor Who Magazine here and follow it on Twitter here.