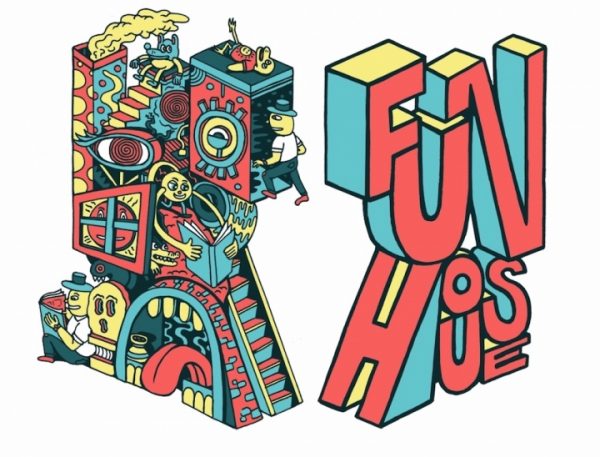 Last weekend attendees of Funhouse: An Interactive Bookfair were able to experience a comics festival unlike any other. The past few years have given rise to a host of new independent comics conventions across North America, some featuring hundreds of exhibitors but many being micro-cons with less than thirty artists exhibiting their work. It's a format that creates a much more intimate experience for both exhibitors and attendees as there is less pressure to see every table, and less worry as to how you will divide your comics buying dollar.  Funhouse took that idea even farther by creating an experience removed from the commerce driven aspects of comic conventions.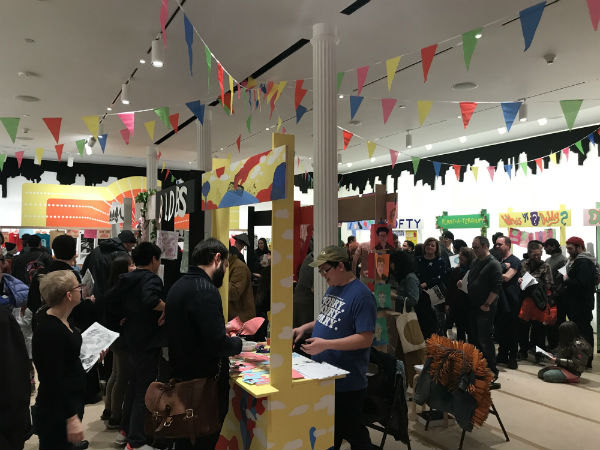 A collaboration between long-standing New York comics destination Desert Island and The Drawing Center; Funhouse was a two-day event in which attendees could interact with artists stationed at carnival style booths and walk away withpages to be assembled into their own unique handmade book. Coming to a convention with the goal of securing original art from artists is nothing new, but it has always been a corollary to the purchasing of books. Original artwork carries with it significantly raised prices commensurate with the time and energy it takes to produce, making it a trickier sale in the flea market atmosphere of an indie comic con. Funhouse neatly sidestepped this issue by having the exhibitors producing original work entirely for free. Their income for the weekend supplanted by a waived table fee and an on-site general store run by Desert Island staff selling the artist's comics for them.
With these tweaks to established formulae in place an interesting question arises. What sort of original art would artists create if they had to do so for a mass audience without the goal of making money? The answer was one focused more on the experience between exhibitor and attendee than on the object changing hands. For example: in keeping with the carnival theme Laura Perez-Harris' booth (above) was a simulacra of the baseball toss game in which you would randomly mark a spot of a drawing of her booth and then try to knock over the corresponding doll for a chance at winning a prize. Your crumpled-up sheet serving in the place of the ball you would toss.
Rob Corradetti (above top) let you roll the dice and move your game piece across a board game he had produced. The square you landed on corresponding to a selection on a flash sheet of icons he would then draw for you on your own individual game board. Jim Schuessler (above lower) posed as a fortune teller and would conduct a faux magic ritual ending with the stamping of a sigil on a premade sheet. What made this experience special was not just the sheet you received at the end but the Schuessler's performance, culminating in the magician-like reveal of your uniquely stamped page from a hidden drawer on his table.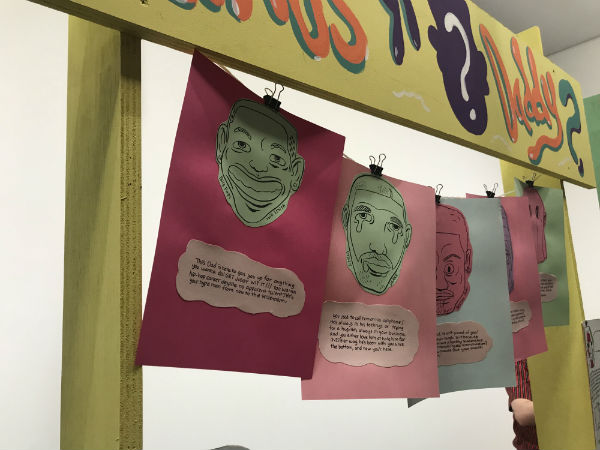 So much of the magic of this event was the breaking down of the barriers between artist and attendee. Be it signing a friendship contract in fake blood with Abby Jame (below right) or creating a cartoon cut-out head portrait of your father by engaging in a one-on-one personal discussion with Ben Passmore (above). That intense "The Artist is Present" moment where it is just you and the artist alone together in a crowded room looking in each other's eyes. Attendees got to have this moment whether they had their portrait painted by Gabrielle Bell (below left), or caricature drawn by Stephen Palladino housed within a Human Printer suit (below, lower right), or had Gina Wynbrandt draw them as the central figure in a tableau of fawning clones of herself. These kind of moments are exceptionally rare at a normal convention when the ever present need for the artist to sell their work is consistently humming away in the background.
The most intimate of these moments between attendee and artist were of genuine collaboration; the kind perhaps never before seen at a comic convention. Kelsey Wroten (above left) worked with attendees to create a bright Sharpie marker cut-and-paste Frankenstein Mr. Potato Head. Lilli Carré had attendees create frames of an animation with her. Matt Thurber turned his whole body into a drawing implement for attendees to blind draw with. While Walker Mettling worked side-by-side with attendees to give features and faces to abstract colorful shapes in an art exercise that recalls the chapter on icons in McCloud's Understanding Comics. The idea that anyone can make comics is so core to the DIY ethos of indie comics, and here without the table between artist and attendee there was room for a playful dissolution of the disparity between the two. Going beyond the implied, "look at us, we're doing it, you should too" into, "you can do this, see look, you're doing it now."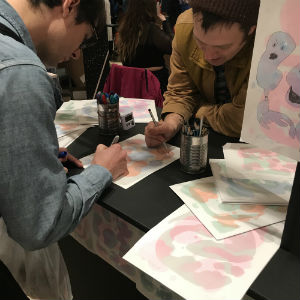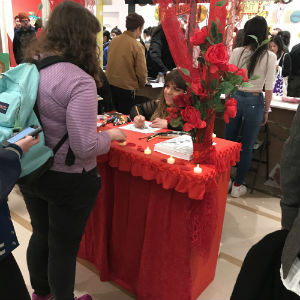 Walker Mettling (left) and Gina Wybrandt (right) interacting with attendees
This joyful spirit climaxed in the final portion of the Funhouse experience. Having collected their assorted pages from the various booths, attendees slid them through a slot in the giant cardboard façade of a book-making machine. Behind-the-scenes volunteers bound the pages together in between brightly colored cover sheets bearing the Funhouse logo to create a commemorative object of the attendee's experience. Then in the final carnival trick this one-of-a-kind book was slid out through a second slot in the cardboard machine on a giant hand, hot and ready to be received by its owner. It was the kind of magic moment that had adults giggling and children peeping through the slot to see the elves in Santa's workshop.
Matt Thurber (left) became a human drawing implement
The unique atmosphere and adventure of Funhouse serves as a nice complement to Desert Island's long running and far larger convention Comic Arts Brooklyn. It is a testament to Desert Island proprietor Gabe Fowler's passion for the medium that he has been able to organize and curate two such vital comics festivals. While an event exactly like Funhouse may be hard to re-create in the future as The Drawing Center's generosity handled many of the logistical concerns for the show, the comics community would be well served by carrying some of its ideas forward.
The interactive elements seemed to be a major draw for a wide variety of age groups particularly parents with children. The small space and elaborate decor including the painted photo op stand-ins and reflective sideshow tunnel entrance gave the whole event a party atmosphere. Attendees didn't just photograph their comics haul after the event, they were taking photos to instantly share with their friends on social media to let them know what they were missing out on. Whichever festival organizer can figure out how to replicate the energy in the room at Funhouse with a convention format that matches the venue and artists they are working with will surely have a hit on their hands.
Gary Lieb (left) and Thu Tran (right)
Top Funhouse logos by Rob Corradetti and Richard McGuire 
Report by Robin Enrico