If you're going to be referencing one of the all-time great revenge movies, you better make sure that your comic lives up to the reference and I can safely say that John Wagner's and Arthur Ranson's Button Man collection lives up to Michael Caine's Get Carter which is even reminiscent in the new cover artwork for this collection.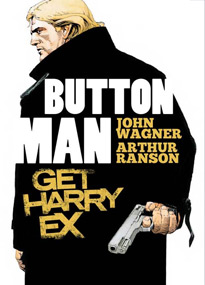 Button Man: Get Harry Ex collects all three of the Wagner / Ranson's Button Man serials from the 2000 AD magazine. Book I was written around 1992, it reads like one of the best seventies movies never made though that can be rectified quite soon since Button Man has been optioned by Dreamworks with Nicolas Winding Refn attached as its director.
Button Man is the story of Harry Exton, a human killing machine without a vocation, until an old colleague told him about 'The Game'. The players, known as 'Button Men', are paid to fight to the death in a modern-day gladiatorial contest. Organised by mysterious backers known as 'Voices', the killing game offers bountiful financial rewards… if you live. Harry decides to participate, but soon discovers that death offers the only way out!
It successfully combines the stylish storytelling of the cinematic seventies with the paranoia and dread of the eighties. John Wagner and Arthur Ranson collaborate on a thriller with a rather simple premise 'Harry wants out' and uplift it to an instant classic by way of a masterful script that doesn't let up but keeps it reins controlled tightly, and stunning visuals that get room to breathe and pace the script. John Wagner doesn't let a silly thing like morals get in the way of protagonist Harry Exton who simply does what needs to be done in order to survive. He therefore enters into the hall of fame of such luminaries as Richard Stark's Parker and Clint Eastwood's Dirty Harry. Wagner gives Exton no time to even contemplate his own despicable actions – not that Harry would even if he had the time – he simply is unfit to return to the civilised world, a hunter through and through, the battlefield is his only home. Even his motive for retreating from 'the game' is fueled by his need of not being controlled by anyone instead of displaying any reflective contemplation on ethical grounds. No one shall dictate Harry Exton's movements, he is not a puppet.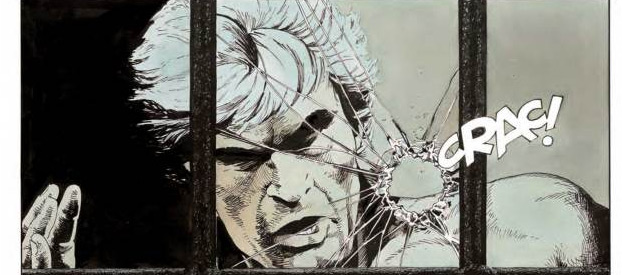 Illustrated by Arthur Ranson, Button Man is instantly lifted to a higher level. The execution ofthe script is done masterfully by Ranson pacing the story almost as a storyboard. Scenes are given room to breathe and the realism of the artwork and toned down colouring enhance the hardboiled and down to earth approach. His chiaroscuro work is the work of a master and his hatchings and delicate inking ground the story solidly into the 'now' even though the comic is by now over 10 years old.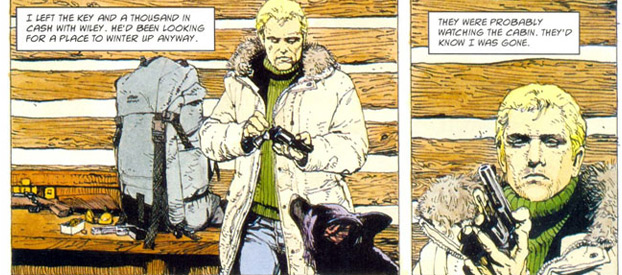 Button Man: Get Harry Ex is a gritty no holds barred action thriller, cinematic in its approach and as unrelenting as Lee Marvin in the opening scene of John Boorman's Point Blank, never holding back, never giving in. Wagner and Ranson are the perfect partners in crime, playing to each other's strengths. Going from the English countryside to urban London to the USA in a cross state race for survival, Harry Exton doesn't let up until he gets his way. Highly recommended.
Button Man: Get Harry Ex by John wagner & Arthur Ranson is published by 2000 AD and distributed in the States by Simon & Schuster. It is a full colour softcover counting 304 pages and retails for $29.99.