It's certainly been a big week for announcements of upcoming graphic novels and collections from Dark Horse. And it's not quite over yet. Details of GirlFIEND in Paris: A Bloodthirsty Bedtime Story, coming in October from the Pander Brothers below.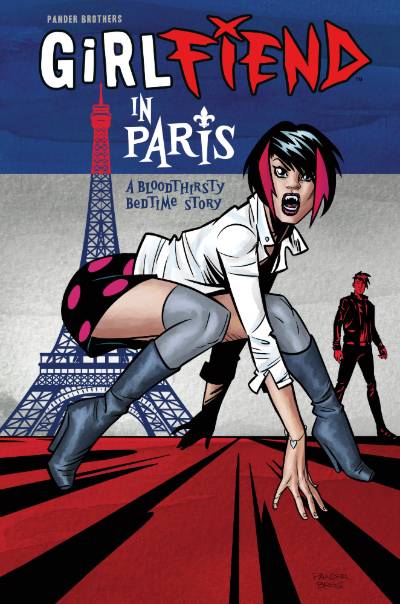 The Pander Brothers (Dissident X, Grendel: Devil's Legacy) return to the world of GirlFIEND with GirlFIEND in Paris: A Bloodthirsty Bedtime Story. This original graphic novel is written in poetic verse from the vampire heroine Karina's perspective and includes a new GirlFIEND pin-up gallery.
The fugitive romance continues between Karina, a day-walking vampire and Nick, a nocturnal mortal. Living out their storybook fantasy in Paris by day and hunting down criminals by night to feed Karina's hunger, Nick's moral line continues to be pushed to the limit. When Karina discovers her latest prey holds a dark criminal secret, it will put their immortal love-pact to the test when they attempt to rescue an innocent girl from a deadly underworld plot.
"We wanted to magnify the idea of the protagonists living out their "fairytale fantasy" in Paris by depicting the narrative itself in literal fairytale storybook verse," Arnold describes.
"GirlFIEND in Paris was born out of the Covid lockdown," Jacob explains, "With both of us working in separate locations, we decided to take a different approach by making the story more intimate in its tone – a Paris romance novella to reacquaint the readers with these two characters, and allow the complexity of their relationship to grow and evolve.
"While also delivering a solid dose of horror and action that is expected from GirlFIEND." Arnold interjects. "It is a dark fairytale after all."
The GirlFIEND in Paris: A Bloodthirsty Bedtime Story hardcover will be available at comic stores October 12, 2022 and in bookstores October 25, 2022. It is available for pre-order on Amazon, Barnes & Noble, and at your local comic shop and bookstore. GirlFIEND in Paris: A Bloodthirsty Bedtime Story will retail for $19.99.
Praise for the Pander Brothers:
"Each page is a visual feast." – Comic Book Resources
"The Pander Brothers have a tremendous cinematic style." – Rock Shop Pop
"Worth every penny for horror, action and comic fans alike." – Rock Shop Pop
"Girlfriend is one of the best horror comics I have read…" – Scream Sirens
"The Pander Brothers deliver an absolutely gorgeous graphic novel." – Horror Talk
"You can feel that intensity running through the entire book, like fast music should be pumping as the soundtrack." – Horror Talk