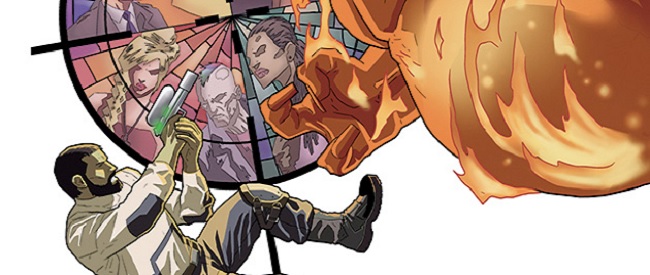 S.H.O.O.T. First shows promise with an intriguing premise and solid art, but falls flat on originality and character development.
Welcome to the world of S.H.O.O.T. First, a world where angels, demons, jinn, and other supernatural meddlers are decidedly real, but maybe a little more scientifically inclined than believers might think. Those in the know call them "outside actors," and it is secretly their goal to grow stronger off the belief of humanity. Enter the Secular Humanist Occult Obliteration Taskforce, the eponymous team tasked with countering the paranormal ne'er-do-wells' attempts to gain power in our realm and subjugate mankind to the forces of ignorance and superstition.
It is a clever premise, to be sure, and one that readers of all persuasions can agree provides fertile ground for an interesting story. It's too bad, then, when S.H.O.O.T. First spends a great deal of its first issue reveling in familiar genre tropes and clichés. One of the first characters we meet is a young Muslim man attending mosque, who will quickly (perhaps too quickly) become known as Infidel when he winds up joining the ranks of S.H.O.O.T. Caught in the midst of a staged suicide bombing (actually an attempt by the outside actors to implement their apocalyptic last hurrah), Infidel winds up assisting the team in their fight with the entities, and is brought back to their headquarters when he is injured.
Stylistically, S.H.O.O.T. First comes across as mash-up of Buffy the Vampire Slayer and the old Christopher Walken film Prophecy, while tonally it is stuck between a heavily introspective book and a lighthearted comedy/action piece. While the story is entertaining enough, and the action enjoyable in standard comic book fashion, ultimately the execution just isn't there to the level that it should be.
Nicolas Daniel Selma's art helps to alleviate, or at least distract from, the problems at a few points in the story. His style is energetic and very three-dimensional, but in the end it can't save this book. S.H.O.O.T. First may still have some promise, but for now at least, it looks as if it has managed to take a unique premise and build a thoroughly cliché-ridden narrative around it.
Justin Aclin (W), Nicolas Daniel Selma (A) • Dark Horse Comics, $3.99, October 16, 2013