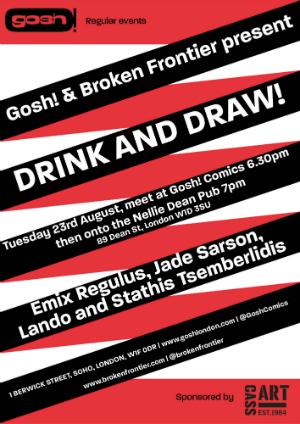 It's nearly Gosh! Comics/Broken Frontier Drink and Draw time again as our popular collaborative event returns this month on August 23rd. As ever, your co-hosts for the night are myself (Broken Frontier Editor-in-Chief Andy Oliver) and Gosh's very own Nora Goldberg. The evening begins at 6.30pm at Gosh on Berwick Street before we head off for our sketching and imbibing antics at 7pm. Don't forget you can join the official Facebook group here.
This time around we're at the Nellie Dean pub in Soho with a line-up that both ties into August's Safari Festival and also features one of the hottest new talents in UK comics… one who has her own rather unique Broken Frontier connection.
Jade Sarson is an artist we've been featuring at BF in our 'Small Pressganged' column since 2012 when I singled out her contribution  'Siddown!' – a tale of a time-travelling commuter train – in the londonprintstudio anthology Parallel Lives here.
We were also the first site to tell you about her Cafe Suada series (below) following the rivalry between a tea shop owner and the next-door coffee house proprietor. It's a comic I described at BF as "incredibly confident storytelling that shows a deep understanding of the language of comics and the unique potential that sequential art has for communicating ideas."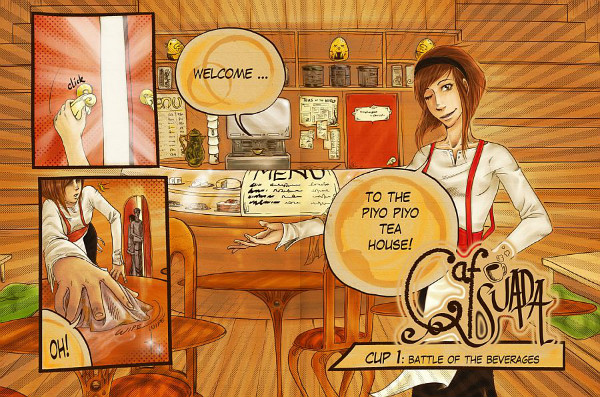 Back in 2014 Jade was also the winner of the 2014 Myriad First Graphic Novel Competition for her debut graphic novel For the Love of God, Marie! –  a competition of which I had the privilege of being a judge for. The adventures of the eponymous free spirit Marie were published by Myriad last month and described here at BF in our 'Comic of the Week' write-up as "a sex comedy unlike any you've experienced before." You can also read an interview with Jade about her small press work here at Broken Frontier.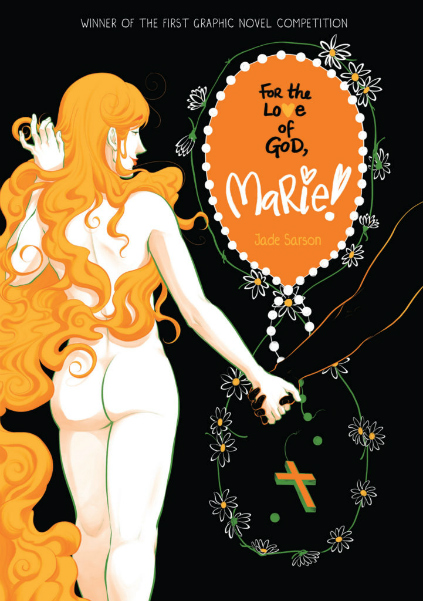 In the build-up to the ever excellent Safari Festival on August 27th we're also delighted to have a triumvirate of Decadence Comics talent taking part in the evening. It's a huge month for the Decadence crew, of course, as not only does it see the eleventh edition of their self-named anthology comic on sale at Safari but also their first London group exhibition at the Sassoon Gallery on August 25th. Decadence #11, John's Worth #2 by Jonathan Chandler and Picnoleptic Inertia by Stathis Tsemberlidis will all launch that evening. More details can be found on Facebook here.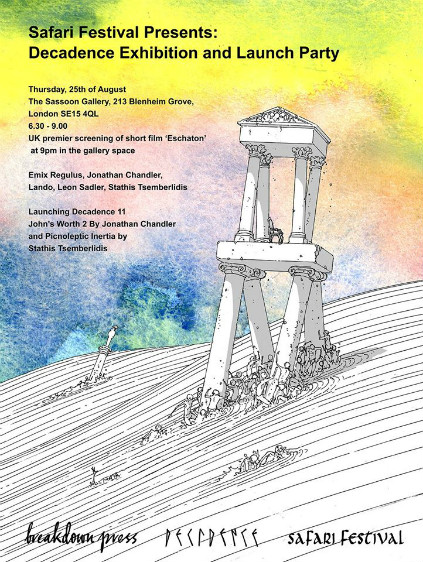 Emix Regulus is a Decadence contributor, has been published in Off Life and has also self-published her own comics. I reviewed Hepatic Portal – a collection of seven of her short comics stories – here at BF last year describing it as "an investigation into our how we shape our perceptions of the world around us, a reminder of the comparative insignificance of our egos within the wider expanses of reality, and a conscientious objector to the practice of decompression in comics. A truly distinctive and intuitive use of the possibilities of the comics page."
Infundibulum, the zine-style anthology edited by Emix Regulus, will also be available at Safari. Chosen as a Staff Pick here at BF last month this mix of comics and prose is an all-woman collection of sci-fi/horror/fantasy stories covering "meat horror, archaeological findings, psychic invasion and lycanthropy."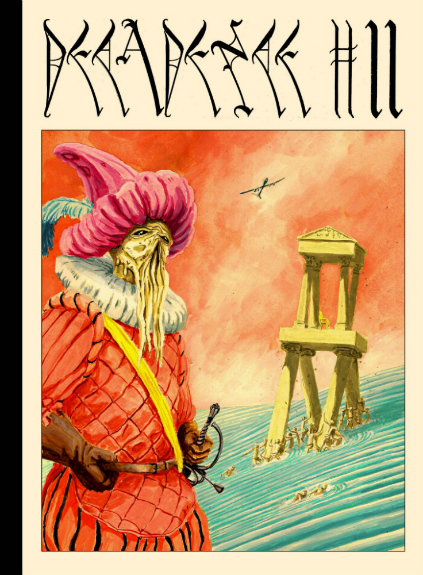 Lando and Stathis Tsemberlidis are, of course, the gents behind the Decadence collective which publishes both their work and that of other sci-fi oriented creators. I wrote about Breakdown's collection of Lando's work in Gardens of Glass at BF here last year saying of it "For anyone with even a passing interest in the major boundary-pushing players in UK self-publishing over the last decade-plus Gardens of Glass is an essential acquisition. Oblique but hypnotic, these dystopian parables are a savage indictment of a society doomed by its own inexorable moral devolution."
Above, Lando's Gardens of Glass and below visuals from Stathis's Adamao
Join us next Tuesday night, then, for another fun evening of drinking, drawing and comics camaraderie. We kick off at 6.30pm in Gosh with a chance to get hold of signed comics and books from our featured creators before moving over to the Nellie Dean for 7. We look forward to seeing you then!
You can find the Facebook event group here.