The online version of our monthly Gosh! Comics and Broken Frontier Drink and Draw returns this Thursday June 25th at 7.30pm GMT on Twitter. To the day, this will be the fifth anniversary of the Drink and Draw which debuted on Thursday June 25th, 2015 at the John Snow pub in Soho. An achievement deserving of celebration, so on that note thank you to the Drink and Draw community who have been with us through the five years we have worked to bring this event to you every month.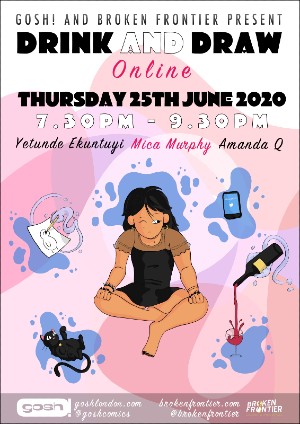 Here is how it works.
We're using our regular pub format, adapted for a digital platform so if you've never attended one of our monthly sessions this is how it will work. Our guest artists will each choose a drawing theme for three sessions across the evening. We'll post each of these prompts with the hashtag #GoshBFDD in three batches at 7.30pm (GMT), 8.15pm and 9.00pm from both the Gosh! Comics Twitter account and the Broken Frontier Twitter account. You have 30 minutes to draw something fitting that theme, after which we'll spend 15 minutes picking a winner before the next round begins. Don't forget to post your drawings with the #GoshBFDD hashtag so everyone can see and join in. And also so we can easily retweet!
The guest artists this time around are Yetunde Ekuntuyi, Mica Murphy and Amanda Q.
Yetunde Ekuntuyi is an illustrator whose colourful work explores "emotional themes through narrative and fantasy". You can see more of her comics on her site here.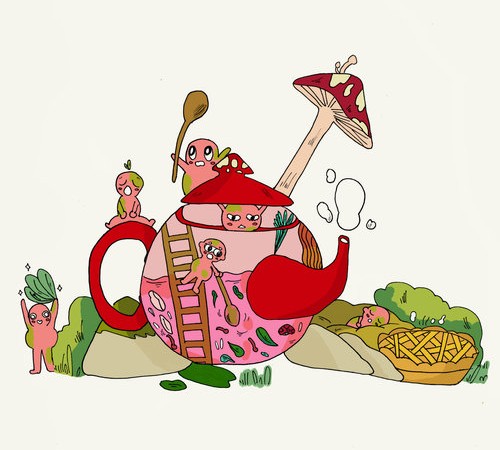 Amanda Q is a London illustrator who describes her art as "stylised, colourful and consisting of both line and line-less art." You can find out more about Amanda's practice here.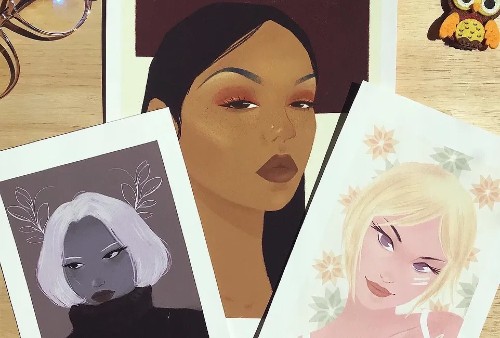 Mica Murphy is a designer, illustrator and art director whose clients have included The Wizarding World, Penguin, Puffin and Ladybird Books, and the BBC, amongst others. You can find out more about Mica's work here.
Whether you're a regular or a newbie all are welcome so please do join in and be part of the event. And if you enjoy this event why not check out the Gosh! Comics webstore here.