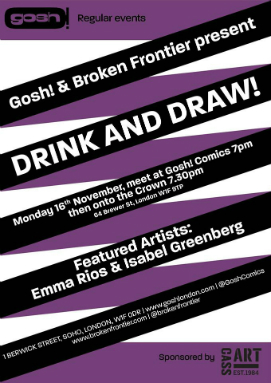 Thought Bubble may be over but the comics and socialising continues in London tonight with a post-TB Gosh! Comics and Broken Frontier Drink and Draw featuring Emma Rios and Isabel Greenberg.
Rios is, of course, the artist behind Osborn and Pretty Deadly (both collaborations with Kelly Sue DeConnick) and whose work has appeared in books like Amazing Spider-Man and Runaways.
Greenberg has been featured a number of times in our 'Small Pressganged' column for comics like Dreadful Wind and Rain and Tall Tales and Outrageous Adventures, and was our 2013 Broken Frontier Breakout Talent Award winner for her acclaimed debut graphic novel The Encyclopedia of Early Earth from Jonathan Cape.
There will be the customary signing at Gosh! beforehand beginning at 6pm before heading over to the Crown on Brewer Street for a 7.30pm start for the Drink and Draw. We look forward to seeing you this evening…