While we're all gearing up in the UK for the juggernaut of comics festivals that is the all-encompassing Thought Bubble at the weekend our chums at Gosh! Comics in London have a couple of satellite TB-related events to ease you into the fun and also to give you something to look forward to during the post-Thought Bubble hangover.
We've already mentioned this week's Gosh! Comics and Broken Frontier tomorrow Thursday September 20th here (with guest artists Ben Sears and Kels Choo!) but Gosh also have a corking trio of top creative talent signing in the shop next Monday with a truly stellar line-up of creators between 6-7pm.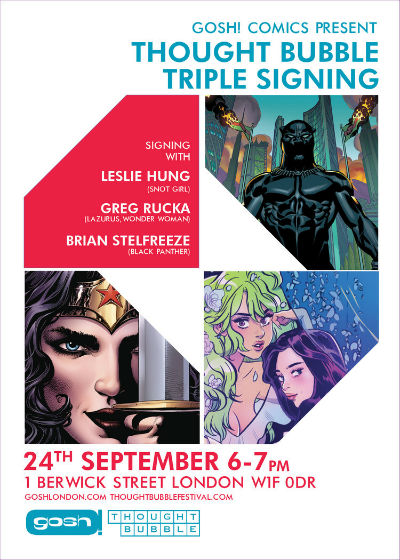 Leslie Hung (Snotgirl). Greg Rucka (Wonder Woman, Lazarus) and Brian Stelfreeze (Black Panther, Batman: Shadow of the Bat) will all be on hand for those wanting to extend their Thought Bubble party a little further or those who may have missed out on the Leeds festivities. You can find out more about the event (and many others!) on the Gosh! Comics site here.