Summer may be drawing to a close but our Gosh! Comics and Broken Frontier Drink and Draw has one last hurrah for the lighter evenings. Say goodbye to the summer nights on Thursday September 26th as we welcome guest creators Sabba Khan, Peter Morey, Tom Woodman and Rupert Smissen to our regular monthly meet-up, sponsored by Cass Art.
You can find us upstairs in The King's Arms on Poland Street. The fun begins at 6.30pm at Gosh! on Berwick Street before we head off for our sketching and drinking antics at 7pm.
A quick intro to this month's guest creators…
Sabba Khan was one of our 2017 Broken Frontier 'Six to Watch' creators. She's an artist whose work we've described as combining "moments of quieter symbolism with compelling visual metaphor" and who defines her practice as examining "first world city life as a second generation Pakistani Muslim migrant". Sabba was not only shortlisted for the prestigious Myriad First Graphic Novel Competition last year but also had her autobiographical graphic-novel-in-progress Pluralism picked up by Myriad for publication in 2021. You can read a review of her recent zine offering Motherhood here at Broken Frontier.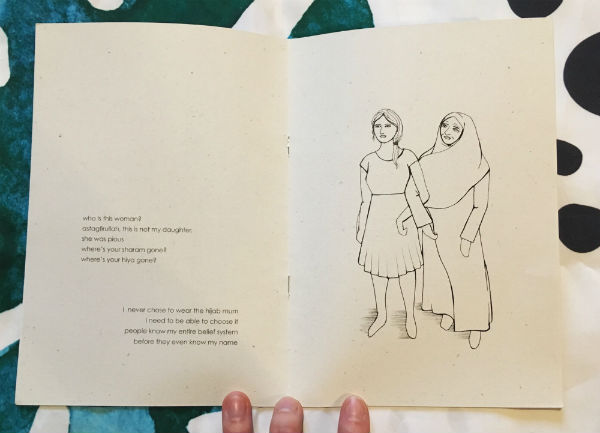 Peter Morey's work has been reaching new audiences on the UK indie and small press scene through a variety of routes over the last couple of years. Firstly, of course, there's his self-published comics like the family saga Endswell (both issues of which have been reviewed at Broken Frontier here). Then there's his contributions to the WIP Comics anthologies Work and Progress, and he's also been published by SelfMadeHero in The Corbyn Comic Book. Pete is a Drink and Draw regular so we're delighted to give him his D&D moment in the spotlight this month!
Tom Woodman and Rupert Smissen are the creative team behind the graphic novel Future which is currently crowdfunding on the Unbound platform. The premise of the book is described as…
Murray Mielniczuk, the last astronaut, is dying. So is the Earth.
In a last-ditch attempt to save them both, Murray and her wife Kay are shot forward through time to find a cure and rewrite the future. But crash-landing in a barren future, they find themselves with no help, no ship, and no way home.
Future was featured in one of our 'Crowdfunding Corner' blogs earlier this year when we said: "The very best sci-fi finds the human in the extraordinary and this book has an intriguing premise that fits that definition from the outset. The preview art available on the Unbound site underlines that juxtaposition and that this is a story that is universal in both emotional terms as well as conceptual ones."
Join us on Thursday September 26th, then, for another fun evening of drinking, drawing and comics camaraderie. We kick off at 6.30pm in Gosh with a chance to get hold of signed comics and books from all our featured creators before moving over to The King's Arms for 7. We look forward to seeing you then!