Press Release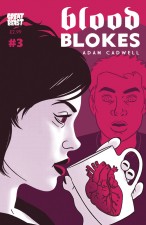 Great Beast Comics is happy to announce that the long awaited third issue of Adam Cadwell's Northern Slacker Vampire series Blood Blokes is due to be released on May 15th after debuting at Toronto Comic Arts Festival. It will be available in both print and digital editions from the Great Beast store. It will also be available on Comixology shortly after.
Blood Blokes #3 sees Vince awaken in the vampire house with more than a few questions. When he discovers the hard way that going home isn't an option he finds the life of a vampire to be alarmingly familiar, yet Vince still longs for a certain someone.
Great Beast was founded in April 2012 by UK based cartoonists Adam Cadwell and Marc Ellerby to provide fun and creative stories to as wide an audience as possible. All of our titles are creator owned and self published to a professional standard; these are comics brimming with passion and imagination. Great Beast takes it's name from the very first Monster In My Pocket released in 1990 because we thought it sounded cool.
Find Great Beast online, on Twitter, on Facebook and on Tumblr.