For the heroes of writer Cullen Bunn's newest series, work is hell—and they don't need a theme song to save humanity from the demons lurking in the shadows.
Cullen Bunn's hit Oni Press series The Sixth Gun is winding down, but his slate at the publisher has never been fuller. He just launched his all-ages girl-and-her-dinosaur tale, Terrible Lizard, and in March his next long-form supernatural thriller arrives with a full-sized issue for just $1.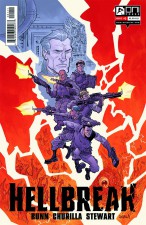 In a world where every person's Hell is unique, Hellbreak spotlights a special team tasked with high-stakes rescue missions for the damned… if the price is right. Joining Bunn on the journey are Brian Churilla on art and the inimitable Dave Stewart on colors. We recently spoke with Cullen to learn more about the origins of Hellbreak, striking the right tone when eternal damnation's on the line, and what makes a team book work.
In Hellbreak, you draw on humanity's millennia-long fear and fascination with the idea of eternal damnation. What drew you personally to tell this story?
Cullen Bunn: When I was a kid, there was a prose anthology series I think was called Heroes in Hell. The series featured dozens of stories in which the various authors explored their take on Hell. That might be where I started becoming interested in this kind of story. Beyond that, though, Dante's Inferno is obviously a huge influence, only instead of nine circles of Hell, I'm exploring thousands.
I thought the idea of an endless variety of Hells—from apocalyptic mega-cities to vast volcanic caverns to icy wastelands to battlefields with endless bloodshed—would be a great vehicle for telling lots of different stories. I also wanted to tell a story with all the gunfire, tooth-and-nail combat, elbow grease, and tough-as-nails soldiers that you might expect to find in an action movie.
And finally I wanted to write something where I could layer in loads of mystery and shadowy conspiracies and the idea of absolute power corrupting absolutely.
And that's pretty much how Hellbreak came to be.
In the past year you've showcased your range on diverse titles like Terrible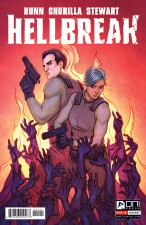 Lizard and Magneto. Hellbreak, while it shares a supernatural bent with Sixth Gun and Helheim, is no exception. Can you give readers an idea of what makes this series unique from your past work?
Cullen: Hellbreak is the story of a black ops team that enters Hell, which is this multiversal plane of awfulness, to rescue lost souls. They do this in order to assist in exorcisms in the real world. One of the things we learn early on is that when someone is possessed by a demon, their soul is cast out into Hell. In order for an exorcism to be successful, the soul must be found and replaced at the exact moment the demonic entity is expelled.
One of the things that makes Hellbreak different is that the story unfolds in two worlds. On one hand, we have the many Hells that the mercenaries of Orpheus Team invade. These are supernatural, horrific worlds of every shape and size. On the other hand, though, we have the real world. In our world, we not only have exorcisms taking place, but also we have some corporate mystery and intrigue. The Kerberos Corporation has its fingers in a number of cookie jars, and their intentions might not be completely noble.
It was important to me that while Orpheus Team is engaged in supernatural activity, they are completely mundane in nature. They don't have superpowers. They don't have sci-fi weaponry. These are "real world" soldiers in Hell.
You're working once again with Brian Churilla (artist on Sixth Gun spin-off Sons of the Gun). In the first issue, we get the chance to see his talent for both unsettlingly grotesque creature designs and expressive emotion. What is the collaborative process like with Brian?
Cullen: Brian calls a lot with requests for more monsters to be added to the series. That dude loves drawing creepy crawlies! And he has a real knack for bringing the weird and disgusting to life. Whether it's a Hellish masquerade or a cavern filled with hellhounds and demonic bugs or a devil bi-plane, he relishes in drawing deviltry! Working with him is a real treat. He balances the real world and underworld elements quite well. And since we see dozens of different Hells, there's always something completely different showing up in my e-mail inbox!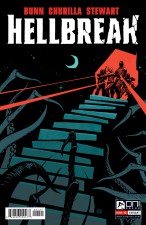 Hellbreak marks the latest in a line of successful titles for Oni Press. What do you think has made your working relationship with the publisher such a good fit?
Cullen: I love working with Oni Press. I've worked with them for so long that I feel a kinship and friendship with their team. I also know that when they take on a project, it's something they truly love. Working with them on a book is a real partnership in trying to make the book as successful as possible.
Any chance of a crossover down the road? It seems like Hellbreak/Helheim practically sells itself.
Cullen: Ha! I do like the idea of crossovers, but I don't know if a Hellbreak/Helheim story is on the cards! I feel like Helheim/The Sixth Gun is a better fit. And maybe Hellbreak/The Damned makes a little more sense. Then again, maybe all those terrible realms in my other stories are just versions of Hell for the Orpheus Team to explore!
This first issue makes it clear that even when the team "wins," a happy ending isn't a sure thing. However, there are also plenty of lighter moments on display. How are you working to balance the light and dark when it comes to tone?
Cullen: My hope is that some of the characters and the interaction between them offer a few lighter moments. Some of the characters, like Joseph, have a remarkably upbeat attitude in the face of their Hellish encounters. In other cases, the jaded nature of some of the characters offers some lighter moments. The story of Hellbreak can definitely head into some dark territories. The moments of lightness give the reader a bit of a breather from some of that. It also helps to make the moments of intense darkness and horror all the more unsettling.
This marks your return to a "team-based" book after the late (and lamented) end of Fearless Defenders. What do you think is the most successful ingredient of a book with so many leads?
Cullen: I think one of the keys is giving the different characters room to grow and time to shine. While the first arc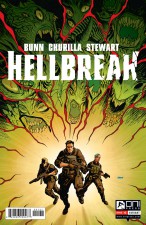 focuses heavily on the team leader, Jenner, I try to make sure every member of Orpheus Team shares the spotlight. Then, in the second arc, we really dive deep with each and every one of the characters. In this kind of scenario, characters can surprise you. For example, I never expected Father Lloyd, the exorcist, to rise to the top and become one of my personal favorite characters, but that's exactly what happened!
Recently we've seen digital comics and graphic novels offering alternatives to the monthly comic format, but here you've packed a lot of story into a first issue that costs less than a candy bar. In your opinion, what's the key to telling a long-form story that also satisfies readers with each new installment?
Cullen: My hope is that each and every issue of Hellbreak (and, really, any comic I write) has a beginning, middle, and end. The first issue of Hellbreak tells a complete story, leaving a few clues to greater mysteries and more harrowing adventures to come. But even if an issue is part of a longer story… even if it ends with a cliffhanger… I want the reader to be satisfied with what they read, and I want them to start looking forward to the next issue.
In order to get the readers to come back again and again, they have to engage with the characters. They have to care what happens to them. And they must be teased by the riddles I'll answer in the days to come. For example, in the first issue I don't try to explain the "science" of Hell, but I reveal a little more in issue two. And as the story continues to unfold, I'll explore a little more about how the Kerberos Corporation and the Church interact. I'll reveal hidden agendas and betrayals and secrets that help to paint a picture of a much bigger world.
Hellbreak #1 goes on sale on March 11 with a regular cover by Brian Churilla for $1.00 and variant covers by Jenny Frison, Cliff Chiang, and Dave Johnson.