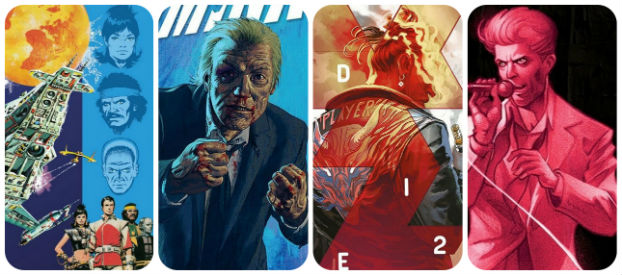 It's nearly Wednesday, and you know what that means: a fresh load of comics and graphic novels! With so many publications hitting your local comics store, comics event or digital storefront, the BF team are here to lead you through the woods with our weekly staff picks. Satisfaction guaranteed!
Comic of the Week
Gunning for Hits #1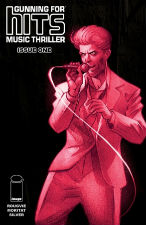 Best known for his work with David Bowie, Big Star, and Elvis Costello, award-winning producer Jeff Rougvie now applies his music industry expertise to writing this darkly comic Image series with art by Moritat (The Spirit, Harley Quinn, Hellblazer). Dubbed a 'music thriller', the story follows sociopathic A&R guy Martin Mills through New York City in 1987, as he attempts to sign a rock band that will conquer the world. Yet, as the narrator warns in its opening pages; "This isn't the glamorous money-making side of the music business. It's hard work for a tiny slice".
Issue #1 proceeds to deliver a Wolf of Wall Street style survey of the biz, before pulling out the big guns and flipping into noirish territory. Rougvie's experience and candid sense of humour makes him the perfect tour guide, with Moritat's gift for impish illustration giving the story a page-turning playfulness. Each issue includes a background feature and a Spotify playlist, meaning audiences can expect a real audio-visual reading experience.
Jeff Rougvie (W), Moritat (A), Casey Silver (C/L) • Image Comics, $3.99
– Ally Russell
Criminal Vol. 3 #1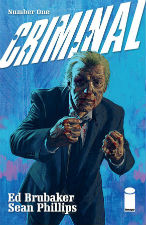 Much as the advent of a new year is an opportunity to embrace change, new horizons and endeavours, I'm pretty excited that Ed Brubaker and Sean Phillips are instead looking back: both to the series which really kicked off their creator-owned collaborations, and to a pulpy, nastier era of comic history. The first two volumes of Criminal, initially published through Marvel's Icon imprint, offered mostly self-contained story arcs which hearkened back to Chandler, Peter Yates films and True Crime Comics in their tone, moral ambiguity, and hardboiled narration boxes.
As with later Phillips and Brubaker joints like The Fade-Out (which riffed on James Ellroy's turf of Golden Age Hollywood's seedy underbelly) and Fatale (which bolted Lovecraftian horror to the crime genre), Criminal's antecedents were obvious without ever coming across as hokey pastiche. Brubaker knows his way around a good plot and compromised character, while Phillips's loose, heavy inks are never better than in a noir setting. After the more fantastical — but no less bloody — Kill or Be Killed, and long-form graphic novel My Heroes Have Always Been Junkies, it's a delight to see the pair return to serialised crime stories.
Ed Brubaker (W), Sean Phillips (A), Jacob Phillips (C) • Image Comics, $3.99
– Tom Baker
Wildcat: Turbo Jones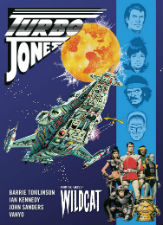 For those of us voraciously reading our way through Rebellion's Treasury of British Comics line-up of classic UK work 2019 is looking to be a very exciting year of collections. The year kicks off with a volume compiling the feature serial from the short-lived Wildcat comic of the late 1980s by Barrie Tomlinson, Ian Kennedy, Keith Page and Vanyo.
Almost a footnote during the last days of the British newsagent comics tradition, Wildcat lasted just twelve issues (and a couple of holiday specials) before merging into Eagle. This volume collects the whole Turbo Jones saga from both comics as the titular Professor and his trusty crew on the space vessel Wildcat take their colony ship to the stars looking for a new home for the human race. But when that objective is realised they find themselves caught up in a conflict between two warring races…
Once again the Treasury of British Comics proves itself to be just as willing to bring the hidden gems of the past to new audiences alongside the more obvious reprint choices. Indeed, these books are so essential that even though we have access to the digital review copies here at Broken Frontier we still make sure we pick up all the handsome physical copies!
Barrie Tomlinson (W), Ian Kennedy, Keith Page and Vanyo (A) • Rebellion/Treasury of British Comics £14.99
– Andy Oliver
Die #2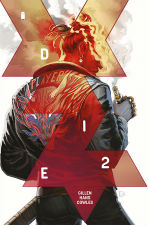 While the brass tacks are easy to reduce down to elevator pitch-size — a mash-up of The Big Chill, the Narnia books and Jumanji, with more many-sided dice and emotional trauma — the specific pleasures of Die are harder to tie down. The latest from The Wicked + The Divine writer (and former game journo) Kieron Gillen and painterly artist Stephanie Hans, the first issue of Die put all the pieces in place for a heck of a campaign. Decades after a teenaged tabletop RPG group were somehow transported to the fantasy realm they had previously only imagined, which was nowhere near as fun as it sounds, they are brought back together and are forced to reckon with this shared fantastical, horrifying experience.
Gillen's ability to convincingly write complex, emotionally damaged and authentically three-dimensional characters has been in as much evidence as his skill at a high concept since Phonogram. There is a maturity to the depiction of Die's cast that supersedes even the go-for-broke drama of WicDiv, thanks in no small part to Hans. Her use of shadow and light, conveying mood, personality and plot points through colour palette, panel progression and character design is a distinct pleasure. Even when everyone on the page is having a terrible time.
Kieron Gillen (W), Stephanie Hans (A), Clayton Cowles (L) • Image Comics, $3.99
– Tom Baker
Nothing Nice to Say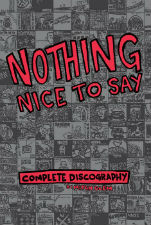 We covered a number of books from eclectic San Francisco-based small press publisher Silver Sprocket at Broken Frontier through 2018 in reviews, previews, staff picks and blog pieces. Their diverse publishing output really spoke to us over those twelve months. It resulted in their nomination in the 2018 Broken Frontier Awards in the 'Best Publisher' category and the double recognition for Ivy Atoms and Pinky & Pepper Forever in the Breakout Talent and Best One-Shot sections.
They're a publishing force to be watched closely and they come into 2019 with a collection of Mitch Clem's cult punk culture webcomic Nothing Nice to Say (2002-2014) which includes rarely seen material and spin-off strips. This "complete discography" is the first in what we have no doubt will be another year of top indie/alt comics from one of the most exciting new outfits of the last few years!
Mitch Clem (W/A) • Silver Sprocket, $24.99
– Andy Oliver