Press release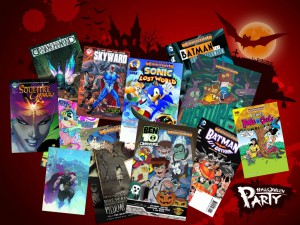 Put on your Halloween costume and head to your local participating comic book shop for the second annual Halloween ComicFest. This weekend, participating comic shops will be packed with comic and Halloween fans getting their free Halloween ComicFest comics to celebrate the second largest free comic book event of the year!
This Saturday and Sunday (October 26th and 27th) , stores will be giving away up to 22 free Halloween themed full-sized and mini comics featuring Batman, Thor, Spider-Man, My Little Pony, Adventure Time and other popular and new titles.  The free comics are great for comic fans and readers of all ages, giving them the opportunity to discover new titles and series they will enjoy.
Crowds will flock to their local comic shop to get free comics and take part in store sales, costume contests, comic signings and artist's drawings among many other spooktacular events. Some stores are using Halloween ComicFest to promote community awareness through hosting blood drives, encouraging donations to various foundations, running silent auctions for charity and much more to give back to their community.
"Comic and Halloween fans will have a blast at this year's event as more stores are participating, hosting their own activities to make the weekend more memorable in addition to more Halloween comics being given out for free," said Dan Manser, Diamond's Director of Marketing. "Halloween ComicFest is another great free comic day, allowing fans to dress up in their scariest, goofiest, most remarkable Halloween costumes, and have fun with other fans during the weekend."
Stores will also participate in promoting "The Greatest Halloween Costume Contest Ever", where customers can submit their costume photos to the Halloween ComicFest website for a chance to win prizes.  Two randomly chosen winners will win $500 to the comic shop of their choice, along with other great prizes such as graphic novels, collectible statues, pop-culture related items and more. To enter the contest or for more information, contestants are encouraged to go to www.halloweencomicfest.com/costumecontest.
Halloween ComicFest gives the community the opportunity to discover their local comic shop and see it as a go-to place for Halloween and comic fun! People who attend are also encouraged to pick up some bundles of the mini comics to pass out to trick-or-treaters instead of candy, sharing the love of comics with a younger generation.
To find a participating comic book shop, go to www.halloweencomicfest.com/storelocator and visit www.halloweencomicfest.com for more information and event details.