Hunting ghosts is a messy business, you'd think. Cobwebs getting in your hair, ectoplasm spraying this way and that, decrepit old houses absolutely covered in dust. That's no excuse for not looking stylish while doing it, though. Just look at Yvette Fielding's succession of sterling lewks on Most Haunted, or the innumerable fashion spreads which break up the spooky action in Benji Nate's Hell Phone. This first volume introduces BFFs and nextdoor neighbours Sissy and Lola as they're dragged into an occult mystery against their will. Sissy happens upon an old flip phone in the street and, naturally, takes it. Soon she begins receiving calls from an anonymous individual — seemingly from beyond the grave. Terrified, the two friends try to dispose of the titular cellular device, only for it to mysteriously reappear each time, even when it's been snapped in half.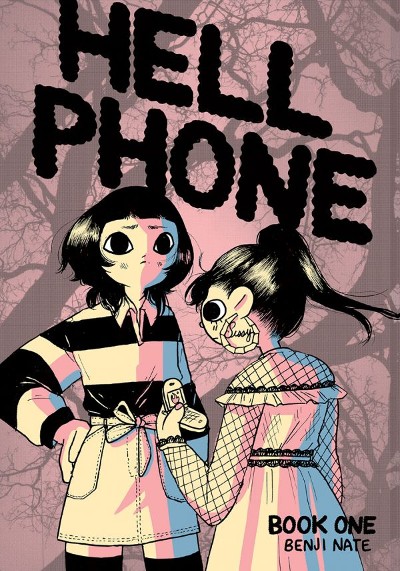 Nate does a great job of balancing the macabre and the millenial in this, her first sustained narrative work following her charmingly surreal webcomic Catboy. The ironicised slacker humour combined with genuine intrigue and horror put me in mind of Leslie Hung and Bryan Lee O'Malley's fitfully-released Snotgirl. Much like that series, or a romantic partner with commitment issues, every time it appears the plot is getting too serious (or just too plotty), it undercuts that sincerity, pulling back with a sudden dose of comically relatable humour in Nate's colourful, superflat art style.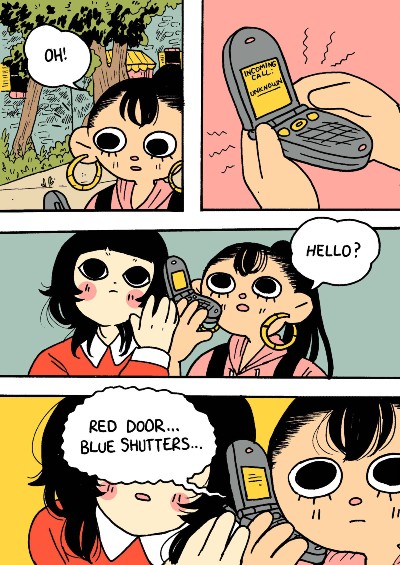 Hell Phone doesn't go full Junko Mizuno in embracing either the gory or the kawaii whole-heartedly, but the gothic manga-ka is another appropriate point of reference regardless (is what I've decided having typed that sentence and not wanting to turn back now). Nate revels in hipster fashions as much as she does the familiar iconography of ghosts, ghouls, and bloody murder; an effective smooshing together of two divergent aesthetics which heightens the pleasure of each. I knew a fella at secondary school who suffered from an intense phobia of clowns. This was, apparently, because he had a set of educational videos as a child, produced by some fly-by-night spendthrift operation. Instead of purchasing new, blank VHS tapes, they bought surplus existing videos on the cheap, and simply recorded over them. Unfortunately for my acquaintance, his videos were taped over the TV adaptation of Stephen King's IT, which meant the ghostly apparition of Tim Curry's terrifying clown murdering kids could sometimes be glimpsed amongst animated guides to times tables.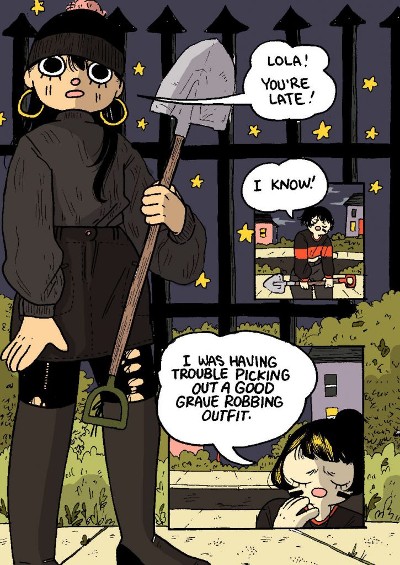 The grislier aspects of Hell Phone reminded me of this horrible, hilarious anecdote. Cults, sacrifices, vengeful spirits and a Satanic conspiracy…all bursting forth from a world more reminiscent of Tuca and Bertie than, yknow, a Dennis Wheatley novel. While Sissy and Lola's looks are street photography-ready, there are also no punches pulled with the bloody stuff. The fact that these things can co-exist, and that much of the latter occurs in broad daylight — barring a climactic nighttime grave desecration — makes it all the more eerie. It's been a while since I've been so effectively charmed and creeped out by a comic, inspired to both turn all the lights on and update some Pinterest boards. More please!
Benji Nate (W/A) • Silver Sprocket, $14.99
Review by Tom Baker